Catherine Alexander McCoy is one of my 6th Great Grandmothers. If there is one name that defines the early years of Mecklenburg County, North Carolina, it is that of the Alexander family. Of Scotch-Irish origins, our line began with one John Alexander who married Margaret Gleason of Glasgow in 1735 and afterwards moved to Armagh in Ireland. Not abiding there long, they were off to America by 1740 with his two nephews, Hugh and James and their sister, who had married a Mr. Polk.
They stayed for a short time in Chester County, PA before migrating to Mecklenburg County, NC and making their mark.
I am the descendant of 5 Signers of the Mecklenburg Declaration of Independence and Catherines father, Colonel Adam Alexander was one of them. In the Revolutionary War, Adam was a Colonel and his father William was a Captain. He served in the Clear Creek Militia. Adam had married Mary Shelby who was born in Frederick County, Maryland. Her brother Evan Shelby was a General of the French and Indian War and her nephew Col. Isaac Shelby, who fought at the Battle of King's Mountain would wind up as the Governor of Kentucky.
Adam himself, was a prominant man. He served as a delegate to the Catawba Indians. He built two homes and ran a store and a mill. He was Civic-minded and a proponent of Liberty, serving both as a Justice of the Peace and then later, as an Elder of Clear Creek Methodist Church.
So into this era of Patriotism and Rebellion from the Crown is born young Catherine, known as Kate. She was the 5th of the 9 chidren of Adam and Mary Shelby Alexander and arrived on April 6, 1759.
Mecklenburg County topography
Mecklenburg at this time was a veritable wilderness, with rolling hills, and multiple creeks that could be seen babbling along, not trash-filled streams funneled into culverts under massive highways. There were Indians and Buffalo and Bear, instead of traffic and strips malls and skyscrapers.
Clear Creek, where the Adam Alexander family lived, was near the Mecklenburg/Cabarrus County border. Today, we would consider it Mint Hill. The Scotch Irish families in this place and time were all very tribal and connected to each other. They intermarried, interacted and stayed bound into one unifying force. The names in this limb of my family tree were very the same, and all a part of this Mecklenburg diasphora: Alexander, McKnitt, McDowell, Wallace, Walker, McCoy, White and Shelby.
According to the historian Edward Tunis:
These people were by temperament the utter antithesis of Quaker calm and of German thrift. They took the land they wanted and dared anybody to move them; seldom did anyone do so. They were fiercely independent and stubbornly belligerent. It is said that when the break came with England, there was not even one Tory to be found among the Scots-Irish.
Children participated heavily in the tasks that it took to survive in such a rural and challenging place. It took large families to survive, cultivate the land and fend off enemies. It was not misspoken to say the Scots were clannish. There was no loyalty to the British among them and they formed a uniquely independant and defiant community along the Carolina Border. These were the people who formed "The Hornets Nest".
There's not much known of Catherines childhood except that she grew up in a devoutly religious home and that Civil duty and separatist values were driven into her and her siblings. By the time her father and associates signed The Mecklenburg Declaration of Indepence, after hearing of the Battle of Lexington, Kate was 16 years old. She heard the rumblings all during her childhood, and as she approached young womanhood, her father and older brothers would go to war.
Among this atmosphere of War and Rebellion, Kate would meet the dashing young soldier, John McCoy. Born in Cecil County, Maryland, John McCoy was of the same cloth and kilt as Catherine Alexander. He was McCoy, Beatty, Alexander and McKnitt. His father was Ezekial Beaty McCoy, son of John McCoy and Esther Beaty. His mother was Margaret Alexander, daughter of Captain James Robert Yeoman Alexander and Abigail McKnitt and sister to two more signers of the Declaration, Hezekiah Alexander and John McKnitt Alexander.
John was 6 years older than Kate, born in 1753. They were married in the midst of Revolution, on July 31, 1779, in Mecklenburg County.
They would purchase land on 3 mile creek. After the War, they seemed to settle down into the quiet country life of the antebellum period between wars. Like her mother, Catherine would become mother to a large group of children:
1) Adam Alexander McCoy
2) Jane Shelby McCoy
3) William Beaty McCoy
4) Marshall Rodolphus McCoy
5) Catherine Alexander McCoy
6) Nancy T. McCoy
7) Margaret C. McCoy
8) Matilda H McCoy
9) Charles T. McCoy
Some also attribute Elvira Davis McCoy to this couple, but she just doesn't fit as their are no Davis's in this family line.
The photo above is Marshall Rodolphus McCoy, a son of Kate Alexande McCoy.
The life on 3 mile Creek was one of Antebellum bliss. The family prospered and their children grew, to become contributary and "useful" citizens of Mecklenburg County, or to migrate on to Tennesse, as some did.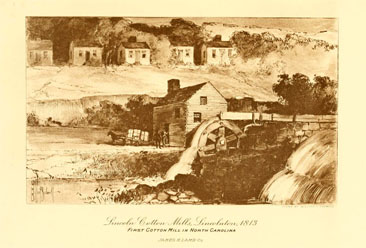 Daughter Margaret C. McCoy, whom they called "Peggy", would marry William Thomas Lemmonds and settle in Union County. She would become the mother of John Q. Lemmonds, whom I mentioned in my last post on his wife, Harriet C. Means.
Catherine Alexander McCoy would live a long life for that time period, and die on August 18, 1840.
She was 81. Her descendants were woven deep in the Mecklenburg and Union County fabric.
Happy Mother's Day Granny Kate. I ne'er knew ye.