It's 2020. Genealogy today is no longer just the hours spent in dusty basements of a small town courthouse or out plundering through abandoned cemeteries. That remains important, however, and I believe always will, but modern technology is opening new doors we never knew existed.
With the creation of DNA genealogy, our very cells can connect us to long gone ancestors, generations back, whose names we have never heard. Yet in our blood, the remains of them exist.
Such is my relationship with Anna Maria Merckle Hite.
I have a Third Great Grandfather named George Washington Turner. He was born in 1835 in Anson County, NC. His mother's name was Mary Turner and her father's name was James Turner and that is as much as I can acertain through a paper trail. Mary was never married and I do not know who George Washington Turner's father is. Despite all this, many family trees have assigned a man who lived in Anson County at the time, George Turner, as his father. But if you study all the available records of the time, you will not find any relationship between George Turner and George Washington Turner. George had one son who remained in North Carolina and that was Wilson Pinkney Turner. He had a sister, Mary, but she was a very different Mary than Washington's mother, so he wasn't G. W's uncle, either. The only possible relationship between the two would be if George Turner's father, Jaspar and G. W's grandfather James, were somehow related. That's possible, but I've not looked into it and it would be rather distant.
So how does Anna Maria Merckle Hite play into all of this? Well, I came into contact with a distant cousin and direct male line descendant of George Washington Turner who agreed to take a Y DNA test for me to try to determine who G. W's father may have been. As my line is from my Great Grandmother Penny Wayne Turner Davis, none of my closer male relatives would have been a straight male line from Washington.
Remains of a Palatine Lutheran Cemetery in West Camp, Ulster County, New York
When the results came back, we discovered, he, and therefore I, am descended from an early Palatinate settler of the Shenandoah Valley named "Jost Hite". Anna Maria Merckle was the wife of Jost Hite.
Another interesting fact was that the primary origins of the Haplogroup this line fell into was Armenian. The Hite family origins being in Germany, this seems odd, but possible and not just possible, but actual.
The Von Der Heydt family originated in Bonfield Germany and the man we came to know as Jost Hite was born there, the son of a Lutheran Civil Warden and City Councilman named Johannes Von Der Heydt and his Catholic wife, Anna Magdalena Merckle. Now, don't trip over the German names here, because I have not typed in error. Jost Hite's mother was named Anna Magdalena Merckle and his wife was named Anna Maria Merckle. The Germans were just as repetitive and unoriginal as the English, if not more so. There is a thought floating out there that Jost and Anna Maria may have been cousins, since his mother was also a Merckle, but it's not been proven.
It has crossed my mind if the Duchess of Sussex, formally known as American actress Meghan Markle, could be descended from these Merckles, as the old German names made some changes as they crossed the Atlantic. I don't know. However, I do know one celebrity who is descended from Jost Hite and that is country singer, Tim McGraw, as his story was featured on "Finding Your Roots" with Dr. Henry Gates.
Ok, so Johannes Von der Heydt had 8 children with his wife, Anna Magdanlena and when she died he remarried and had 4 more children with Anna Maria, the widow of Caspar Schutz. The importance of this will be important in a minute.
Jost Hite was a son of the first marriage and his original name was Hans Justus von der Heydt. He would become the husband of Anna Maria Merckle.
Anna Maria was the daughter of Abraham Merckle and Anna Veronica Landvatter. She was born on January 16, 1687 in Bonfeld, Wimpfen, the second child and oldest daughter of their 12 children.
The list of them is:
1) Jeremiah Andreas
2) Anna Maria
3) Anna Felicitas
4) Anna Veronica
5) Andreas Jeremias
6) Anna Katherine
7) Anna Veronica II (Perhaps the 1st had died???)
8) Regina Christine
9) Isaac
10) Jakob
11) Anna Rosina
12) Abraham
Boy, you'd have a problem calling for Anna in that house, wouldn't you. I also noticed that the name of the fifth child was basically a reversal of the name of the first. Of course, I did know a woman who named her twins Carolyn Ashley and Ashlyn Carol, but that's another story.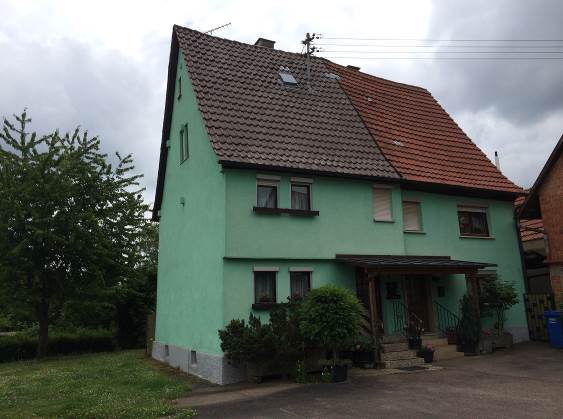 By all accounts, the Merckle family was a prosperous one. So with the marriage of Anna Maria Merckle and Hans Justus von der Heydt on November 11, 1704, the uniting of two well-to-do families of high standing in the community had taken place.
I'm sure the young couple was happy for the first few years, but already, trouble was brewing politically and religiously. In this cloud of unsurity and apprehention, more tragedy was to come.
On February 22, 1705, just 15 months after her marriage, Anna Maria was delivered of her first child, a girl, whom she named Anna Maria. The infant was not healthy and lived only 2 days. Anna Maria, only 18 years old, was very soon pregnant again. Only 11 months later, now 19, she delivered her second child, another girl, whom she named Barbara. This little one lasted only 5 weeks and died.
I can only imagine how devasted the young couple must have been, but there was trouble in the area and they were on the move.
During the War of Spanish Succession, the French and the Holy Roman Empire were militarily depleted. France had a large army, however, and was able to cross the Rhine in June of 1713. The war caused many Rhinelanders to flee, including the Van Der Heydts. They moved to Strasbourg, Alsace in France.
Strasbourg is a beautiful area on the border of France and Germany, with a great deal of influence from both cultures. Two years after the birth and loss of her last daughter, Anna Maria would bring her first son into the world, a boy she named John, here in Strasbourg. And he survived.
But joy was shortlived, as the Heydt family, with thousands of other German Protestants, had to make their way down the Rhine River to Rotterdam, in Holland.
Rotterdam became very crowded very quickly and something had to be done with all of the fleeing
Germans. The once comfortable family were now destitute refugees, grouped with impovershed others, their former status meaningless. On July 15,1709, Hans Justus, with young family, accompanied by his stepmother, Maria, embarked on a ship to England. It is unknown what happened to his father, but accepted that he was by this time, deceased. England didn't accept the refugees either, but sent them on to the American colonies, with the intentions of them being laborers in the pine tar industry.
On June 16, 1710, the family arrived in Ulster County, New York, near Kinston, where they were settled into the West Camp, a community where the German influence is still seen. The plans and promises did not come to fruition and the first few years there were hard. The family are found in the Palantinate Subsistence rolls of 1710-1712.
While this was happening, two more children arrived, Elizabeth in 1711 and Magdalena in 1712. It was after this time, the true fortitude and ambition of the man who came to be known as 'Jost Hite' and his family can be seen.
In 1714, they moved to the German settlement in Pennsylvania. Reasonably assumed to be near people who spoke their own language. Germantown, at the time, was 7 miles out of Philadelphia and is now within it. The English of Philadelphia, including Benjamin Franklin, demanded the German stay within their own community and not settle within the town. Here, Jost was able to earn enough money to buy his family a plot of land on Skippack Creek, in 1715.
Skippack Creek, Philadelphia County, PA
By 1718, the family was in much better shape, financially and bought 600 acres on Perkiomen Creek. There, he built a Grist Mill and was able to raise his family very comfortably. There, they built a brick house with walls said to be of brick two feet thick. There was more than a lasting purpose for the fortress. Having escaped from the persecution of the Catholic French troups, the family now faced the rancor of hostile Native Americans. Many of the Germans were captured and, or killed.
Anna Maria would become mother to 11 children, total, including those who had previously died. In addition to Elizabeth, Mary Elizabeth, John and Magadelena, were Jacob, Abraham, Madeline and Joseph.
There was a Quaker settlement near the Hite family. Anna Maria's oldest two daughter would marry Quakers; Elizabeth to Paul Froman and Mary to George Bowman. Soon, an Inn was established and by 1828, the family were considered pillars of the community. They were settled. Anna Maria was able to raise her children in comfort and security, much like she had been raised.
Pennypacker Mills House
Enter a wheeler-dealer named John Van Meter. He was an Indian Trader and land speculator who was trying to convince Pennsylvania families into uprooting to help establish a settlement of his in the wilds of Virginia. Even wilder than their own wilds. Apparently, one was rewarded with a great deal of property and wealth if one could convince a population of so many families to homestead in the territory. John Van Meter had already convinced his brother, Isaac, to partner with him in the deal.
Jost fell for it. In August of 1731, he bought 40,000 acres from the Van Meter brothers. In addition, just two months later, he bought 100,00 acres along with a Scotchman, Robert McKay. The title to the property wasn't altogether clear. There were strings attached, that he would discover later.
I don't know what happened to McKay, but Jost Hite would found a Land Company with Robert Green and William Hoff. With whateve business partnerships he would make, Jost Hite is still considered to be leader of the first permanent settlement west of the Blue Ridge mountains. He settled in the lower Shenandoah Valley and again proceded a third career. The Jost Hite Mill would end up in the hands of one Peter Pennypacker and as Pennypacker Mills it is known yet today.
Anna Maria Merckle Hite would die in1739, just a few years after resettlement in Virginia. Her widower, Jost, would remarry to the widow of Christian Nuschwanger. (Say that 3 times quickly).
Jost would live another 21 years. He died in the Shenandoah Valley on May 7, 1760 in Kernstown, Frederick County. Virginia. He and his wives are believed to be buried in the Old Opequan Cemetery in Kernstown.
Remains of Jost Hite's Tavern
The children of Jost and Anna Maria continued their parents trend of enterprise and adventure. Some remained in Fredericks County, Virginia while the families of his two daughters who married Quakers are said to have ventured into Kentucky. One son supposedly lived and died in what is now West Viriginia and another made it as far as South Carolina.
For me, now is the task of finding which son we descend from, as it is straight down a male line and whose genes made it to Anson County, North Carolina by 1835.
The most obvious candidate would be that of Jacob, the one who migrated to South Carolina. It would not be a streach of the imagination to think a grandson of his would end up in Anson, a county on the NC/SC border.
The above ad for runaways show that they made servants of the Scotch and convicts. The descriptions are quite informative, but I suppose they had to be with no pictures to aid them.
Jacob Hite is said to have been one of the wealthiest men in what is now Berkeley County, West Virginia. He was born in 1719 and died in 1776. Jacob actually knew and corresponded with George Washington. I found this copy of a letter, dated June 29, 1758, from George Washington to Jacob Hite.
To set the stage for this letter, George Washington, at the time a military officer, had asked George Bouquet in a scathingly sarcastic request, how many sick and lame men he should leave to defend Fort Loudon, in Tennesee, as provision were low and the men were in rough shape and getting worse by the day. Bouquet had replied, also being a wiseacre, that Washington could leave "30 men, lame or otherwise unfit". On June 24, George Washington had ordered Robert Rutherford to detach 20 of his worst scouts to Fort Loudon.
To George Washington from Jacob Hite, 29 June 1758
From Jacob Hite
As the Stationing Twenty of capt. Rutherfords men at Fort Loudoun Gives the Greatest uneasyness to the Inhabitants In General for Several Reasons First it being Contrarey to our Ingagements to the Men on Capt. Rutherfords behalf Secondly the Grate Incouragement we have by So Maney Active Men Rangeing on our Frontier Thirdly the Greate Dislike the Men have to be Stationed There and fourthly the Inactive Company of Militia could Part better be Spared from Pattersons Fort as we cannot Expect to Receive So much Sattisfaction from the hole Company of Melitia as we Should Do from Them Twenty Men Besides other Melitia I hope to be had.
Not as I wood have you Think that we Emagen you to be the Auther of Such orders But that we Expect it will be in your Power to have those orders Countermanded and a More Sattisfactorey one Put in Execution that Those men may go to Their former Station.1
I hartely wish you your hea[l]th a Succesfull Campain and a Safe Return and am Sir your Friend and Verey Hum. Servt
Jacob had married first, an Irish lass, Catherine O'Bannon and 4 children were born of that marriage. He later married Francis Madison, an aunt of President James Madison and 3 children were born of the second marriage. Francis was the widow of Tavenner Beale when she married Jost Hite.
Jacob and Frances would settle near present day Greenvilled, South Carolina while Jacob made his fortune trading with the Cherokee. It did not end well.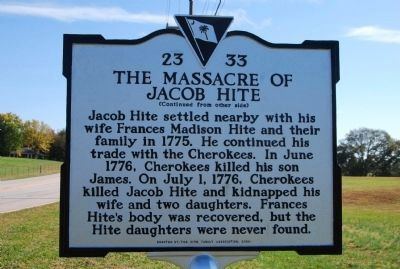 Indian raids were a consitent problem for the Hites as they pushed their way into Indian territory. The below article refers to Jost and Anna's son Abraham, who remained in Virginia, but in a part that is now West Virginia.
As my research into the Hites and what versions the surname may have taken, as there were no Hites in Anson County when George Washington Turner was concieved. But there were Highs, I've seen spelled Hight in a few old deeds, and there were Hyatts. Could one of those families descend from Jost Hite?
Which ever way it ends up, I do know now Anna Maria Merckle Hite was one of my Grand Mothers.
Happy Mother's Day Anna Maria.