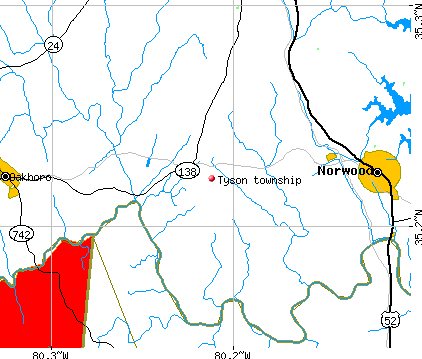 This post is not about the Native American tribe known as the Creek, although the Creek, who were centered in the Georgia and Alabama area, were mound builders and very likely past this way. In fact, by the time any major settlement of the Stanly/Anson/Montgomery County, NC area was taking place, there were no organized bands of Native Americans passing through, nonetheless living here. There were likely some individuals and families with Native background who had assimilated in with the settlers of European and African heritage. Records of 'old timers' from around the turn of the century remembering seeing Native Americans traveling down the paths near the rivers, when the old timers were children, perhaps on their way to a archaeological site near Morrow Mountain, were they found rocks for making spears and arrowheads, or to the Mound, in Montgomery County, which was a site of religious and ceremonial significance.
This post is about the waterways and streams that were of boundless importance when our ancestors decided to settle here.
Rivers were the first roads. Coastal settlers, as they spread out, would follow the rivers up stream, and as they found smaller streams of water, follow them up stream into the mainland. Water was necessary for survival, for people, for crops and for livestock. They also made excellent boundaries and landmarks, especially when roads were few and far between and when street signs were nonexistent.
While in the north, they had streams, in the south, we had creeks. I am not sure at what point it was determined that a lengthy body of water was considered a river or a creek. How big did a creek have to grow to become a river? How deep, wide or long? There are places where the Long Creek in Stanly County is wider and deeper than the Rocky River along its southern border. Long creek is also just one of the many that feed into the Rocky, not far from its conjoining with the Yadkin, either, to form the PeeDee.
Creeks are an important tool in genealogy, as well. You can pretty much bet that Sweet Gum tree that marked the corner between Miller Easley's property and Richard Poplin's in 1849 does not exist today. But Ugly Creek still exists. It has just been renamed Hardy Creek. Hardy Creek can be found on a map and while creeks are not specific, and are usually pretty long, it can give you a general idea of where your family lived. If a piece of property lay between two creeks or alongside a creek and a river, or if your family left a cemetery on their property that can be located, with a creek as a border, you can narrow that area down even more.
Creeks can tell us interesting things about our ancestors.
Like for instance, finding out that my ancestor, Henry Davis, who grew up on the Rocky River, in the Tyson Community of southern Stanly County, purchased land along Cloverfork Creek, which runs a northeast projectory north of Albemarle. Cloverfork Creek is also known as Little Long Creek and flows into Long Creek, which has multiple branches, which then flows into the Rocky River.
So Henry more or less moved up stream.
The main waterways in and bordering Stanly County are, first of all:
The Yadkin River. The Yadkin basically ends here. It begins at a spring in a hotel parking lot up in the mountains, forms the Great Yadkin Valley coming in through Wilkes, Yadkin, Forsyth, Allegheny, Davidson and Randoph counties, among others.
The Yadkin forms the Eastern boundary of Stanly county opposite of Montgomery. Depending on whom you talk to, the Yadkin becomes the PeeDee, either at its confluence with the Uwharrie River, opposite of the Morrow Mountain State Park boat ramp, formerly the location of Lowders Ferry....or...at the forks at it's confluence with the Rocky River along the counties southern border. At either choice, the Yadkin ends in Stanly County.
The PeeDee River. See the Yadkin above.
Badin Lake:
Badin Lake was formed by the damming of the Yadkin River. It covers parts of Stanly and Montgomery Counties. It's a man-made lake and covers areas that used to be farmland and communities, but did not exist in ancestral days. Now, it's a recreational spot and used for boating and fishing. The young town of Badin sits upon it, as well as some modern communities on the other side such as Badin Shores and Uwharrie Point.
The above map shows a section of Albemarle and the thicker lines (the color will not pick up) shows the creeks.
Little Long Creek runs through the center of Albemarle. It's the one that follows highway 52 and that West Main crosses over.
Long Creek crosses Millingport Road, runs parallel to Kendall's church road and then crosses Poplin road, coming into Albemarle from the north. Several small branches run into Long Creek from the east and off of the west. Long Creek turns into City Lake. Long Creek continues on and Kingsley Drive, West Main and 24/27 crosses Long Creek near the western border of the town. Long Creek conjoins with Little Long Creek near the dead end of Coble Avenue, near Animal Control and the Water Plant. From there it travels along its course to the Rocky River. Long Creek came by its name genuinely. It courses through most of the county from top to bottom. Below Albemarle, Long Creek is joined by Little Bear Creek, Scaly Bark Branch, Little Creek, and Long Branch, just before it flows into the Rocky. Murray's branch enters the river very close to the mouth of Long Creek, having been fed by Alligator branch and Haw branch itself.
Murray's Branch has genealogical significance to me, as it may mark where members of the Murray family lived. The old Murray cemetery is close by, but on a rise above Long Creek off of Prince Road.
Town Creek flows into Albemarle from the north. It begins as a spring on a rise west of New London, and just south of Richfield. Town Creek runs with the Old Salisbury Road, just to the east of it. Another creek runs the same projectory just west of Old Salisbury. Town Creek crosses Danville Road, then Steakhouse Road. Just south of Henderson road, both branches conjoin and it crosses Austin Road. Just after crossing Bethany Road, it picks up Lowder Creek and Tanglewood Creek following in from the east. About this time, to the west of Old Salisbury, Coley Branch is born from the Pennington Road watershed, gathering from a ridge known in olden days as "Gobblers Knob". Very close to where North First Street meets Highway 52, Town Creek conjoins with Little Long Creek. Just a little further down, just before Carolina Avenue Park, now named Montgomery, the Coley Branch runs into Little Long Creek.
Just north of where Town Creek conjoins with Little Long Creek on the west, Melchor Branch runs into Little Long Creek from the east. Melchor Branch begins as run off from the ridge defined by Ridge Street, and is also joined by several smaller streams, including the one born from the spring head that Moss Springs road is named for. Also running into Melchor is Pond Creek, stemming from the Pond that Pond Street was named for. Melchor twists its way through many East Albemarle streets and Forest Hills, before pouring into the Little Long Creek.
While runoff from one side of the Ridge creates the Melchor Branch, the otherside gives rise to several streams that flow into Mountain Creek. Mountain Creek and his spouse, Little Mountain Creek, is a great sprawling web of a series of streams that captitulate from the great line of ancient Mountains that line the Yadkin, part of it being Morrow Mountain State Park. These, small erroded Mountains are part of the Uwharries. As Morrow Mountain State Park contains more than one Mountain, Mountain Creek contains more than one Creek.
Mountain Creek and Little Mountain Creek have many fingers coming down off of the Uwharrie hills, and they are the streams created from the falloff between, for lack of a better term, the "Ridge Street Ridge" and the line of Morrow Mountain and her sisters. There's Morrow, Tater Top, Sugarloaf, Mill Mountain, Falls Mountain, then further up, Stony Mountain is a neighbor to Morrow, but falls outside the boundaries of the Park, below Stony, following the course of the PeeDee River, is Morgan Mountain and then Fork Mountain, where the Yadkin/PeeDee and the Rocky River meet.
Upstream from Morrow Mountain State Park is Palmer Mountain, set out on an island now, near the old town of Palmerville. A Ridge runs parallel to the train of mountains, and an old road, Valley Drive runs the course of the Valley from Badin to Hwy 24/27, which historically coursed to the Swift Island Ferry. The old had taken the path of least resistance around Stony Mountain. Stony Mountain is a huge mound in area, and now the home of a beautiful mountain-side Winery and Vinyard.
There is not one Mountain Creek, nor one Little Mountain Creek. They are actually several. The ridge that runs between Valley Drive and the town of Albemarle separates Mountain Creek from little Mountain Creek.
Several smaller creeks come together to form Mountain Creek. They have had various names over the years. The mouth of Eudy Creek lies just south of Hwy 49 and flows into a pond off of Eudy road. It joins with Tuckertown Creek which begins just north of Tuckertown dam and forms a pond near the end of Edwards road. Afterwards, these creeks become Mountain Creek. Hearne Road runs a small ridge that separates Little Long Creek from Mountain Creek.
Ledbetter Creek is a small creek that crosses Old Whitney Road and remnants flow into Little Mountain Creek. A series of small creeks lead from Little Mountain to the Yadkin River. There's Catfish Creek, Moss Creek and Palmer Creek. Little Mountain flows through the Stanly County Airport and forms Dafor Lake. It flows from Dafor Lake through the town of Badin, just south of Badin Lake. There it is joined by Thompson Creek, Falls Creek, Byrd Creek, and Stony Mountain Creek.
The eastern Branch of Mountain Creek is formed by several smaller creeks that run off of Morrow Mountain and her sisters. It runs into a bay adjacent from Woodrun in Montgomery County and intersects with Little Mountain Creek near Scenic Drive and follows Valley Drive.
The Western branch of Mountain Creek flows around Vickers Store Road, crosses Badin Road and follows Sweet Home Church Road.
It forms Anderson Lake and a pond near Ed's Avenue.
Other small streams on the opposite side of Anderson Ridge flow into Jacob's Creek, which will be featured into Part II, The Creeks of Southern and Western Stanly. Jacob's Creek was important in one of the earliest settlements in Stanly County.
Albemarle is a town built upon two hills that expanded to two ridges. It began as the Hearne Plantation that was placed strategically near the Salisbury-Fayetteville Stage Road and along the Creek.
On the opposite side of the ridge from Melchor Branch and Crowell Springs, which fed into the Western Mountain Creek, small streams running from the south side of East Main street form Poplins Creek and Poplins Branch. These creeks ran from the old village of Kingville, that was absorbed into Albemarle.
Rock Creek forms on the west side of the same ridge and flows off of Little Long Creek and conjoins with Morgan Branch and flows south in between Second Street and Highway 52. Poplins Branch flows south on the east side of Second Street, and they both eventually contribute to Jacob's Creek.
It was the weath of ponds, creeks, rivers and springs that made this area attractive to early settlers.
Some of the most important creeks were Curt Tail Creek in Richfield, Bear Creek and Little Bear Creek in the Western section of the county, and Jacobs Creek, Ugly Creek, Cedar Creek, among others in the South.