Jacob Gurley from Johnston County,
North Carolina obtained his first grant in Anson County in March of 1799. It was for 100 acres on "Littel Watre Branch". He obtained 2 more that year, both in December, just days apart for property on the North Side of Richardson's Creek. As the years passed, he would obtain 3 more, another on the North Side of Richardson's Creek in 1807, "on the Flag Branch with the Green Pond", in 1812, and the last tract bordering his own line and "Austins Corner."
Richardson's Creek today, near its intersection with Salem Creek
Jacob Gurley would pass away, leaving a will in 1820, naming 10 heirs. After the usual parts concerning his just debts and proper burial, he named:
1) Son Josiah Gurley
2) Son Danile Gurley
3) Daughter Susannah Gurley
4) Grandson Joseph Gurley
5) Son Needham Gurley
6) Son Jesse Gurley
7) Son William Gurley
8) Son Danile Gurley
9) Son Benjamin Gurley
10) Daughter Unity Whitley or Whiteley.
He named his sons Jesse and William as Executors.
Witnesses were Richard Austin and Willis Gurley.
Jacob had not arrived alone. He had been in the company of other Gurley's and other Johnson County neighbors. Family trees attribute a few other children to Jacob Gurley who may have predeceased him. I have not looked that far into it. My interest came about due to a singular deed.
In the Anson County Deed Book Y Page 102, the first deed that pops up is a gift of property from James Turner Sr. to James Turner Jr.. This is one I have mulled over now for quite some time. James Turner Sr. is my direct ancestor. Not too long after this, another son of his, Lazarus Turner, appears to sell this exact same tract of land. Did James Jr. die? I do not think so, as another James Turner shows up in Alabama in the estate records of his third and oldest son, Axom Turner, and Axom's son James would have been a small child at the time, and I don't believe his father James would have traveled down for that, because in his own will, some years later, he doesn't seem to know that his son predeceased him.
But that is another story for another day. Just below on the same page begins the deed of sale between one William Seagler and Wyatt Nance. Note that the surname Seagler is also shown as "Seagley" in the very same deed. The spelling and obviously, the pronunciation, were interchangeable.
In this document, for $150, William Seagler, and his wife Susannah, on January 8, 1831, some 11 years after the death of Jacob Gurley, sold "100 acres more or less" to Wyatt Nance. This property bounded the corner of James Austin's property, "near his spring branch". The deed was witnesses by Berry Austin, the brother of James Austin and John Rushing.
In particular, this document concerned Susannah Seagler more than her husband. In a second part, she was interviewed, separate and apart from her husband, William, by John Broadaway and Thomas Griffin, Esquires, to ensure this sale was of her own free will and she had not been coerced by her husband.
Inheritance and ownership of property in the early years of the 19th century were very different than today. Married women did not own their own property free and clear. It became the property of their husbands. Yet, this safeguard was put in place, to interview the wife, when property that had been hers, was to be sold, to prevent future lawsuits.
There were no prior deeds showing this property had been purchased. I knew it must have been inherited, and it was very clear that this property had belonged to Susannah.
A portion of the Anson County 1830 census showing George Seagler, James Austin, David Gurley, James and Theophilus Holmes.





In earlier posts, I had explored and followed a Seagler family that was related in some way to the Holmes family that had migrated to Perry County, Alabama with the Lees, Proctors and Allens, among others. A Mathew and George Seagler, contemporaries, and most likely brothers, had arrived in Anson County by 1808, bought land and taken root. Mathew Seagler did not last long in this land. He left a will and named two sons, John and Mathew Jr. , several daughters, and his wife, Angelica. George Seagler was one of the two administrators named in the will. His widow, Angelica shows up in the 1810 and 1820 censuses of Anson County, living near George.
The sons of Mathew Seagler moved to Newton County, Georgia, where the oldest, John, passes away, leaving a will. Mathew and his mother, Angelica, then move on to Alabama, where Angelica passes away in 1850, after appearing in the census there, and appearing in the Mortality Schedule.
That left only George Seagler in Anson County, North Carolina in 1830, where he appears in the above excerpt. As William only appears in the one deed, and does not appear in the census records, it makes the most sense that he was the son of George. He was not the son of Mathew. The census records show that before 1820, when George Seagler appeared with a younger wife and 2 younger children, that he had what appears to be a wife in his own age group, and 3 children, a son and two daughters.
| | |
| --- | --- |
| Name: | Geo Seaglar |
| Home in 1810 (City, County, State): | Anson, North Carolina |
| Free White Persons - Males - 16 thru 25: | 1 William ? |
| Free White Persons - Males - 45 and over: | 1 George |
| Free White Persons - Females - 10 thru 15: | 1 Daughter 2 |
| Free White Persons - Females - 16 thru 25: | 1 Daughter 1 |
| Free White Persons - Females - 45 and over : | 1 First wife |
| Number of Household Members Under 16: | 1 |
| Number of Household Members Over 25: | 2 |
| Number of Household Members: | 5 |
The Book Y Page 102 deed was in 1831, one year after this census. As it noted that the property bordered that of James Austin, and Berry Austin was one of the witnesses, I wondered if Susanna Seagler may have been born an Austin. But she was not. The Seaglers were not the only neighbors of James Austin.
Notice above that the name of James Austin precedes that of George Seagler, but just below the name of George Seagler is that of David Gurley. A study of the deeds revealed that the property of Jacob Gurley, and thus his heirs after that, bordered the properties of the Austins, and George Seagler, apparently, on the North Side of Richardsons Creek.
Now, this excerpt is from the 1840 census of Anson County. Notice after Green B. Rushing, you have David Gurley, Susan Seglar, Daniel Gurley, George W Seglar, Jesse Gurley.
David, Daniel and Jesse were the surviving, younger sons of Jacob Gurley. Susan Seglar or Seigler was Susannah Gurley!!! And George W. Seagler was NOT the original George Seagler. He was a much younger man. It appears that William Seagler had passed away between 1830 and 1840, unless he took the money and ran. But probably, he had passed. George Sr., a very old man by then, had also passes away. I beleive this George W. Seigler to be the son of William and Susannah.
Name
Susan Seglar
Home in 1840 (City, County, State)
Anson, North Carolina
Free White Persons - Females - 15 thru 19
2
Free White Persons - Females - 40 thru 49
1 Susannah
No. White Persons over 20 Who Cannot Read and Write
1
Free White Persons - Under 20
2
Free White Persons - 20 thru 49
1
Total Free White Persons
3
Total All Persons - Free White, Free Colored, Slaves
3
This is what the 1840 census looked like for Susanna Seigler as far as people in the home. Three females, one in her 40's and 2 teenaged girls between 15 and 19, or born between 1821 and 1825.
| | |
| --- | --- |
| Name: | Geo W Seglar |
| Home in 1840 (City, County, State): | Anson, North Carolina |
| Free White Persons - Males - 20 thru 29: | 1 |
| Free White Persons - Females - 20 thru 29: | 1 |
| Persons Employed in Agriculture: | 1 |
| No. White Persons over 20 Who Cannot Read and Write: | 2 |
| Free White Persons - 20 thru 49: | 2 |
| Total Free White Persons: | 2 |
| Total All Persons - Free White, Free Colored, Slaves: | 2 |
And this is what the census record for George W. Seigler, just two doors down, looked like. A newly married young couple, no children yet.
Name:
George Leglar


[George Siglar]

Home in 1830 (City, County, State):
Anson, North Carolina
Free White Persons - Males - 5 thru 9:
1
Free White Persons - Males - 50 thru 59:
1
Free White Persons - Under 20:
1
Total Free White Persons:
2
Total - All Persons (Free White, Slaves, Free Colored):
2
This 1830 census, the last one for George Seigler, Sr. , shows a man in his 50's with a small boy living in his household. Descendants of George W. Seigler, the one in the 1840 census, two houses down from Susannah, believe this was their George, and I agree, it could have been. The part I don't agree with is that they have George as his father. I disagree. I believe this George was the son of William Seigler and Susannah Gurley Seigler. I believe George Sr had a son named George, this one born about 1814, along with a sister named Esther or Easer, who migrated to Perry County, Alabama with their Holmes and Lee relatives, and became heirs of Benjamin Holmes, their possible uncle, as descendants of John Holmes and Nancy Proctor Holmes via their mother, an unknown sister of Benjamin Holmes who would have been the second wife of George Seigler, Sr.
But where, in 1830, was William, Susannah and the girls? It could have been that they were just missed. Possibly living on Susannah's property and overlooked by the census taker.
Susannah's property is mentioned in one more deed that I had found. In Anson County Deed Book U, Page 485, is found a deed dated March 30, 1821, the year after Jacob Gurley has died. This is a deed from Jesse and William Gurley, executors of the estate of Jacob Gurley, deceased, to James Austin, for $200 a tract of land on the East Side of Richardsons Creek. It bordered Austin's spring branch and ran along Susannah Gurley's line to her corner stake. Witnesses were James and Charles Austin.
Recall, the deed from William and Susannah Seagler was also to James Austin and also on Richardson's Creek and also ran along Austin's Spring Branch.
A young woman with land was a catch to a young man without in those days. As Reddick Drew married Martha Turner after her father died and left her property, Susannah Gurley may have suddenly became attractive to William Seigler. They were probably married shortly after this transaction, about 1821 and I believe their firstborn, George W. Seigler, was born about 1822, and married right before 1840 census, in 1839 or 1840. I believe they had not 2, but 3 daughters between 1822 and William's death, which would have been between 1834 and 1840, based on what we find in the 1850 census, which does not clear up a great deal.
The above is an excerpt from the 1850 census, showing Susanna"Sigley" living in between a long row of Gurley's, between James Gurley and his mother Dicey, and her brother, Daniel Gurley and his second wife, Eliza. Living with Susanna is "Una" or "Unas" 26, Catherine, 24 and Caroline 16. With Susanna at 55, this gives her a birth year of 1795, Una - 1824, Catherine - 1826 and Caroline - 1834. This is why I believe William must have died between 1834 and 1840, when Susannah is enumerated alone. And probably very shortly after 1834, if not that very year.
Notice again, in the household of Daniel Gurley. He's 57, his young wife is only 30. Their son, William, is 8 years old, their daughter, Susannah is only two, and also in their home, listed after their two children, is Milas T. Sigley. This turns out to be one Milas Thomas Seigler. He is also 8 years old.
Susannah was widowed by 1840. When Milas Thomas was born, she would have been 47. I don't believe Milas Thomas Seigler was her son. I believe, instead, he was her grandson. He could have been the son of Una, who I believe, knowing Susannah had a sister named Unity, may actually be named Unity, or possibly even Eunice, which is sometimes seen as Nicey. Or, he could have even been Catherine's son. They would have been 18 and 16, respectively, at his birth. Sadly, widows and orphans seemed to be particular targets, in those days, for unscrupulous men who sought to "ruin" them for their own pleasure and illegitimate births happened most often among widows and fatherless children.
As for George Washington Seigler, he took his bride and moved to Montgomery County, NC, a neighboring county of Anson. And Susannah Seigler, by the way, was no longer in Anson. But she didn't move. In 1842, Union County, NC was formed from pieces of Anson and Mecklenburg. The section of Richardson's Creek that the Gurleys lived on was in the area now known as New Salem. I am fortunate enough to have friends who actually live along the creek today and can take off road vehicles down to it.
The 1842 Tax List for Union County lists the "Anson Side", Division of Burnsville Company, 8 Austins, including Berry and James Jr. and 4 Gurley's, David, Daniel, James and Jesse.
And then, I found a document that proved my theory that Susannah Gurley married William Seigler.
Josiah Gurley was one of the younger sons of Jacob Gurley. He died around 1849, in Union County, in his early 50's, without ever having married, that I can tell, and without leaving a wife or children, for certain.
In the Union County Deeds, Book 2 Page 176 is found a "Record of the Estate of Josiah Gurley, Deceased". It was heard in the July Term of County, 1849.
"Between and among Jesse Gurley, David Gurley, Daniel Gurley, Needham Gurley, Stephen Whitley and wife Unity, William Gurley, William Seglar and wife Susannah, and Benjamin Gurley, deceased. His heirs at law and next of kin of Josiah Gurley. " Being without issue or a widow, Josiah's property was divided among his siblings.
This also named the husband of Unity Gurley Whitley. I found them in 1850 in Cass County, Georgia. They appeared to have a daughter Lucinda, and a son, Moses, who married a Matilda George in 1851.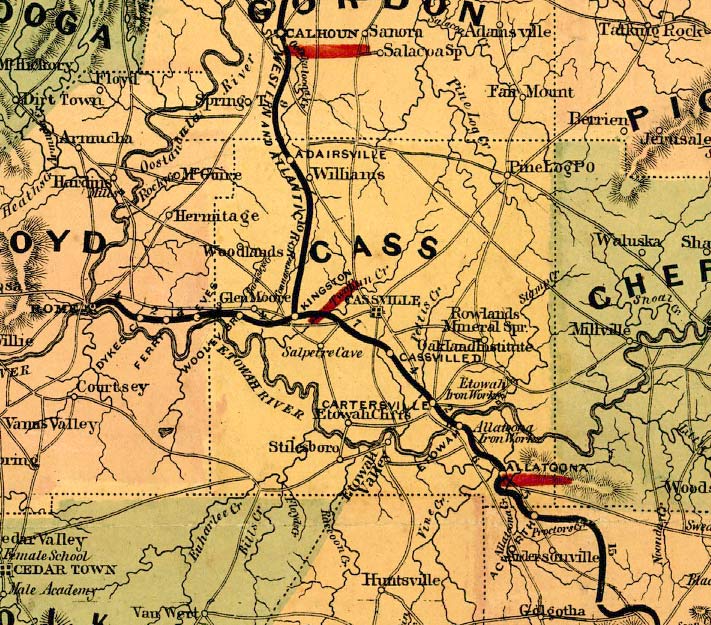 Cass County was a temporary County. Located in the North Georgia Mountains, at the southern end of the Appalachians, in the Etowah Valley, this area was originally the home of the Creek and Cherokee. After the gold rush in Dahlonega, in Lumpkin County, settlers began pouring in to this area and the time for the removal, that became "The Trail of Tears", began. Cass County was one of the original 10 counties created in Northwest Georgia. In 1850, two other counties, Gordon and Floyd Counties, were formed from it and in 1861, the remaining Cass County was changed to Bartow County. It was a rural and beautiful place and Stephen Whitley, connected to our Stanly County Whitley's, may have went there for the gold. He may have been following another Stanly County family, the infamous George Whitley III, who left his family in Stanly County and went off to Georgia with a Mrs. Owens and her children. I found him there too.
| | |
| --- | --- |
| Name: | Unity Whitley |
| Age: | 54 |
| Birth Year: | abt 1796 |
| Birthplace: | North Carolina |
| Home in 1850: | Division 12, Cass, Georgia, USA |
| Gender: | Female |
| Family Number: | 80 |
| Household Members: | |
But back to George Washington Seigler. In the Montgomery County deeds, we find Grant 6594, dated March 17, 1851 and issued December 1, 1850, to Washington Seglar. It was "by W M McRae to George W 'Seegly' for 100 acres on the waters of Lower Richland Creek, joins James Garnder and others; entered Nov. 21, 1850. 5 acres were surveyed in 1851 by Thomas Bright, began at corner stake in Barker's 15 acres tract, joined Solomon Ballard. John T. Matherson and William R. Ridden were chain carriers.
A year later, in 1851 for 135 acres, warrant 63 by W. H. McRae to Washington Seagly. It joined his previos entry, Daniel McRae, James C. Andrews, Thomas Pemberton, deceased, James M. Lilly and John Ballard. It had been surveryed by Lockey Simmons and was located on both sides of Lower Richland Creek. It began at Solomon Ballards corner poplar stump on the west side of the branch and joined the properties of James 'Anders' (probably Andrew), Samuel Scarborough, Thomas Scarborough, George's own 'new' survey, and was on the Edinborough Road. Chain Carriers were James Gardner and Benjamin Scarborough. It ends by stating that on September 4, 1850, Washington Seigler paid purchase money for 35 acres.
| | |
| --- | --- |
| Name: | George W Sigley |
| Age: | 27 |
| Birth Year: | abt 1823 |
| Birthplace: | North Carolina |
| Home in 1850: | Montgomery, North Carolina, USA |
| Gender: | Male |
| Family Number: | 52 |
| Household Members: | |
And certain enough, in 1850, we find George Washinngton Seigler, or Sigley, living in Montgomery County, near many Ballards and Scarboroughs. He is working as an Overseer for John A. Lilly, and next to John L. Christian. Both families were wealthy landowners in the area. The Lilly's hailed from an Edmund Lilly, one of the earliest and wealthiest Planters along the Pee Dee river in Montgomery (and other) counties. The Christians were known for Gold Mining.
Topographic map for Richland Creek.
George and his wife, in their latter twenties, already had 5 children, daughters Sarah A., Adaline, Elizabeth J. and Eliza, and one son, Zachariah Thomas, who is shown as "Bachariah" here.
George Washington Seigler's wife is shown at various times as "Mittie", "Milly", "Mattie" and "Minty". She appears to have a middle name of "H". Her descendants have decided her name was probably "Minty", short for Araminta, a beautiful and romantic name used infrequently in the 19th century. Some of them have also decided that her maiden name was probably "Blackburn", which was a very popular name in the area where they end up, but not in the area from which they came. As they were still in the New Salem area of Anson, which became Union County, NC in 1840, and the 1840 census shows them as a young couple, and probably just married, I don't believe this information is correct. I have not found a marriage document for them. They were, however, most likely married in Anson County, as it was prior to 1840.
I plan to look into the children and descendants of this George Washington Seigler further when I have time. If I can find living descendants of this George, the son of William and Susannah Gurley Seigler, who have taken a DNA test and then also find living descendants of the George W. Seigler who was in Perry County, Alabama and later Anderson County, Texas, the heir of Ben Holmes, whom I believe is this George's half-uncle, who have taken a DNA test, then maybe we can find a genetic connection between the two groups and either prove or disprove my theory of relativity between the two.
1860
Susannah Gurley Seigler was still living in 1860 and still in the same place, living next to her brother, Daniel.
| | |
| --- | --- |
| Name: | Susan Segle |
| Age: | 60 |
| Birth Year: | abt 1800 |
| Gender: | Female |
| Birth Place: | North Carolina |
| Home in 1860: | Union, North Carolina |
| Post Office: | Monroe |
| Dwelling Number: | 789 |
| Family Number: | 789 |
| Occupation: | Domestic |
| Personal Estate Value: | 50 |
| Household Members: | |
Her household has changed. Only her daughter, Catherine, is living with her and Milas Thomas Seigler, whom I believe is her grandson, but through which child, I am unsure, is also living with her. If you recall, he was living with her brother, Daniel, ten years prior, as an 8 year old.
As of now, I have not determined what may have happened to the other young women in her household in 1850, Una and Adeline. They were young, so they likely married and changed their names. Or, they could have came to some sad ending and expired before then. If married, they could still be in the area, or migrated to some unknown state, as many did. I have not found a marriage document for either of them. This does not mean one did not exist. There was not one for George and Minty.
On the other side of Susannah in this census is a Samuel Cook with a young wife, Nicey. Now, if Una's name was actually Eunice, Nicey is a nickname for Eunice. The age is off a little, but that is not an unusual occurance, especially for women in those days. The problem is, I can not find Samuel Cook and wife Nicey after this. There was a Samuel Crook, after this, who married a different lady in 1866, but no idea if Cook was a transcription error and the census taker meant to write Crook. As there were both Cook's and Crook's in the area, I can't tell. More Crook's than Cooks, though.
And as for the Seiglers, there was a John Seegar who lived in the area, who seems to have came up from South Carolina, so I don't see any relation. There were in addition to that, Seagos in the area, so the names get criss-crossed in the swell, as Seigler takes many forms, in and of itself and Seglan, Seaglar, Siglar, Sigler, Sigley, Seagley....and so forth.
They even misnamed George in 1860, but I found him, due to his children. He was still in Montgomery County in 1860, which for those that don't know, borders Anson County, North Carolina. We are not talking any far distance he moved. He probably found work and relocated to that county and bought land near his employer. Just across the county line.
| | |
| --- | --- |
| Name: | Walter Sigley |
| Age: | 36 |
| Birth Year: | abt 1824 |
| Gender: | Male |
| Home in 1860: | Zion, Montgomery, North Carolina |
| Post Office: | Swift Island |
| Dwelling Number: | 853 |
| Family Number: | 853 |
| Occupation: | Farmer |
| Real Estate Value: | 350 |
| Personal Estate Value: | 250 |
| Household Members: | |
They call him 'Walter' here, despite the fact that the land deeds make it clear that the "W" in his name stood for Washington, and knowing a large number of men in those days were named for the first President, and that this George was also probably named for this grandfather, George, I do not know where the Walter came from. Daughters Sarah A. and Eliza are still in the home. "Techery F" is actually Zachary T., if you read the actual census record. And two more sons have joined the family, George Washington, Jr. and Henry L. Seigler. Adeline and Elizabeth J are missing. They were very young, but still, Adeline was probably married, I just have not found her yet, given to the fact that she was a year older than Elizabeth J., who was married, and I have found her.
Elizabeth J. Seigler married John Amos Warner, son of Augustus Reuben Warner of Montgomery County. The couple would remain local and raised 2 daughters and 10 sons together. In the 1860 census, they were living right next to her parents. They married in 1859. This is why I believe Adeline, who was a year old than Elizabeth Jane, probably married before the 1860 census as well.
Tombstone of Elizabeth Jane Seigler Warner
Elizabeth and her husband, and several of their children were buried in the Chestnut Hill Cemetery in Salisbury, NC. I'm not altogether sure why, as they did not live there, but some of their children did move to Salisbury, so perhaps they had purchased a number of plots there for that purpose, it an enourmous local cemetery with over 10,000 interments.
1860 to 1870
Between 1860 and 1870, a few things that I know about happened and some other things that I can't get to the bottom of at this point in time.
In March of 1862, in Union County, Catherine Seigler married an old widower, Burrell Broom.
Before that, Milas Thomas Seigler, who was living with Daniel Gurley in 1850 and with Susannah Gurley in 1860 and whom I believe was probably Susannah's grandson, through which child is unknown, married Martha Crook, daughter of Victory "Victor" Crook on September 24, 1860.
Then there was the Civil War.
Milas Thomas Seigler (or Seigley) joined Company C, 10th Battalion North Carolina Heavy Artillary. The Confederate Records have him listed as 18 years old, therefore, he may have been only 16 when he got married, and Martha 15, because that aligns with is age in the 1850 census.
He enrolled in Union County and attended his first muster in Salisbury, NC. Perhaps the teenager was just looking for excitement and a way out of the small farm community he had grown up in. Or, perhaps, as a probable illegitimate child, as he was not George Washington Seiglers son, and George was the only apparent son of William and Susanna, so a daughter, maybe Catherine, was his mother, perhaps he just wanted to show his worth and valor.
His military records state he was born in Anson County and his occupation was a farmer. He was 5 foot 9 and 18 years old. He enlisted in Unions County on March 15, 1862, not quite two years after he was married, but the same month and year that Catherine was married. In the May 16, 1862 muster, two months after he joined up, he was in Wilmington, NC and he was sick. He seemed better in July and August , but he died at Marine Hospital on September 15, 1862.
| | |
| --- | --- |
| Name: | Pvt Thomas Siegley |
| Birth Date: | 1843 |
| Birth Place: | Anson County, North Carolina, United States of America |
| Death Date: | 15 Sep 1862 |
| Death Place: | United States of America |
| Cemetery: | Oakdale Cemetery |
| Burial or Cremation Place: | Wilmington, New Hanover County, North Carolina, United States of America |
His widow, Martha, presented a claim for settlement in March of 1863.
He is buried at Oakdale Cemetery in Wilmington, North Carolina. The plot is listed as a plot for Yellow Fever victims.
George Washington Seigler also served in the Civil War, although I am not certain where, because he filed for a pension in old age, having served in a Calvary. He was on the move in the 1860's, and there were multiple George W. Seiglers that could have been him. A few I was able to rule out, one who was the Alabama George W. Seigler, who moved to Tennesee and by my estimation was his uncle, an 18 year old son of a Samuel Seigler/Zeigler, who his father swore was really 16 and was born in Kentucky. There was a George W. Seigler who served in Tennesee who stated he was born in Fairfield County, South Carolina. Which leaves 2 who could have been George, one in Missouri and one in Louisiana. After the War, he landed in Mississippi.
1870
In the 1870 census, the members of the Seigler family that remained in North Carolina, that I can locate, with the exception of Elizabeth Jane, Seigler Warner, are only what I can define as "remnants".
Name:

Patsey Crook

Age in 1870:
30
Birth Year:
abt 1840
Birthplace:
North Carolina
Dwelling Number:
168
Home in 1870:
Monroe, Union, North Carolina
Race:
White
Gender:
Female
Post Office:
Monroe
Occupation:
Keeping House
Cannot Read:
Y
Cannot Write:
Y
Inferred Children:
Alice Crook
Jefferson Crook
John Crook
Household Members:
The above is Martha aka Patsy, the widow of Milas Thomas Seigler. She was living near her Crook relatives. Before you can doubt that it was her, lets jump ahead real quick to 1880.





Name:

Martha Siegler

Age:
37
Birth Date:
Abt 1843
Birthplace:
North Carolina
Home in 1880:
Monroe, Union, North Carolina, USA
Dwelling Number:
753
Race:
White
Gender:
Female
Relation to Head of House:
Self

(Head)

Marital status:
Widowed
Father's Birthplace:
North Carolina
Mother's Birthplace:
North Carolina
Occupation:
Farming
Cannot Read:
Yes
Cannot Write:
Yes
Neighbors:
Household Members:
In 1870, she was using her maiden name of Crook. Her oldest daughter, Alice, was listed as 13, which would have meant she was born before the 1860 marriage of Thomas and Patsy. And she had two sons, Jefferson and John, born after the death of Thomas in 1862. In 1880, she is using her maiden name of Seigler. Her oldest daughter, Alice J., is listed as a Crook, but her younger children, all born after the death of Milas Thomas Seigler, are listed as Seiglers. Jefferson still appears. John has probably passed away, as he is not in the home, and two others, a girl named Sallie and a boy named Frank, have joined the family. Martha and her family deserve a closer focus, so I will leave her here. They had quite a story.
Susannah Gurley Seigler obviously passed away between 1860 and 1870. I can find no trace of her or of her supposed daugthers in 1870, however, there were a few stray Seagley/ Seaglers left in Union County. If you recall, Catherine Seagler had married a Burrell Broom in 1862. This may have been the year her mother died. While Catherine was not to be found in 1870, Burrell Broom was.
Name:
Barrett Broom
[

Burrell Broom

]

Age in 1870:
80
Birth Year:
abt 1790
Birthplace:
North Carolina
Dwelling Number:
526
Home in 1870:
Monroe, Union, North Carolina
Race:
White
Gender:
Male
Post Office:
Monroe
Occupation:
Farmer
Cannot Write:
Y
Male Citizen over 21:
Y
Personal Estate Value:
350
Real Estate Value:
800
Household Members:
And in his home were a few Seigler/Seiglers. There were two teens, Sophronia and Mary Seagler or Seagly and Sophronia's infant daughter, Amanda. I know this from Burrell Brooms estate papers. Catherine is not there, it can only be assumed she passed away. But who were Sophronia and Mary? It appears they were daughter of Catherine, therefore making them Burrell's stepdaughters. Francis M Broom was his grandson, son of his daughter, Martha Broom Stack. He seemed to have custody of this fatherless boy as well. The big question is, both girls were definately alive 10 years prior, so where were they? They were not living with Catherine and her mother, Susannah.
The inferred year of death for Burrell Broom, according to his estate papers, would have been about 1872. He was 82. In the beginning of his papers, the following heirs are named:
W. W. Broom (Walker Broom)
Sophronia Ann Seglar
B. F. Broom (Benjamin)
Lewis A. Broom (B. F. and Lewis being grandsons, sons of Phillip Broom).
F. M Broom
Levicy Broom
Asa Rogers and wife Elizabeth
Martha Stack
Elizabeth Yandle
Mary Yandle
Jane Smith
Phillip Broom
Darling Broom.
Burrell Broom outlived some of his children, so some listed are children and others, children of deceased children of Burrell. Mary Seglar is not listed, so likely she had either married and was not a direct heir, so no mention, or she was deceased.
Burrell Broom left a will and in his will, Sophronia and her child (Amanda obviously and perhaps another by then), are mentioned.
He numbered the Items in his will. Part One named the executor and requested a proper and Christian burial.
Part Two devised for his grandson, Francis Marion Broom, "beloved Grandson Francis Marion Broom, the only son of my daughter Martha who intermarried with Thomas Stack", he was left 100 acres that bordered W. W. Broom. Several family trees have F. M. Broom as the son of Burrell, or the son of Phillip. These descendants have apparently not read the Will, which clearly states that Francis was the son of Martha Broom Stack. He was born prior to her marriage to Thomas Stack, making him illegitimate and the reason his grandfather chose to ensure his security.
Part Three names Sophronia. " To my friend Suffronia Ann Seagler the use of the rest of my real estate.....East side of Phillip Broom.....for 4 years from the date of this will for the use and support of her and her infant child that I am security for to keep it off the county on condition that she keep an orderly house and do not offer to sell or destroy.." any of his property. This suggests that Sophronia's child was fatherless and that Burrell Broom had signed as security on a bastardy bond issued against her. The bastardy bonds for North Carolina have just become available on Family Search, and I eagerly tried to find the one involving Sophronia. However, while looking at the Union County folder, I found only Tyrell County. Thinking they may have been switched, I looked in Tyrell County. Those two only held Tyrell County. I even contacted Family Search and they could not locate them. An error was made.
So Burrell Broom gave Sophronia 4 years to get on her feet, I suppose. This is the last mention of her, so I can not tell what happened to her or her daughter. She was very young, she may have married, or she may have moved out of state with family. She may have changed her name and gone by the name of whomever her father was or possibly even Broom. I do not know. All I know is that there were no Sigley's or Seaglers in Union County in 1880, except for the widow of Milas Thomas Seagler.
Part Four mentioned that the propery occupied by Sophronia would revert to his grandsons, Benjamin Franklin Broom and Lewis Alexander Broom, sons of his son, Phillip Broom, after the 4 years had passed, " for Sophronia Ann Seagler and her family".
Part Five mentions Walker Broom.
Part Six states that the remainder of his estate to be sold and divided amongst his heirs with the exception of W. W. Broom, "who has had more than his part of my estate already".
Part Seven names his grandson, the one who lived with him in 1870, Francis Marion Broom, as executor. He also names Darling Broom as Co-Executory.
Dated December 21, 1871
Probated July 11th 1872
Divided shares mentioned Ellen Broom, Elizabeth Rogers, Phillip Broom, Martha Stack, Darling Broom and Mary Yandle.
So the Seaglers disappear from Union County. While the descendants of George W. Seagler dwelled in Mississippi, Alabama and Texas.
But there was one Seigler to pop up in Union County. In 1871, the year Burrell Broom died, a Zeda H. Seagler married Ambrose Wilson Helms.
| | |
| --- | --- |
| Name: | Zeda H Seigler |
| Gender: | Female |
| Race: | White |
| Marriage Date: | 1871 |
| Marriage Place: | Union, North Carolina, USA |
| Spouse: | Ambrose Wilson Helms |
| Spouse Gender: | Male |
| Spouse Race: | White |
| Event Type: | Marriage |
Her name had many incarnations, Zeda, Zedy, Beady, Almetta, Mittie, Anetti, but Mittie seems to have predominated. Her marriage license listed no parents for her, although it listed both parents for her husband. On her death certificate, in 1935, it lists her date of birth as 15 December 1847 and her parents as Fanny Segars and her father as Thomas Threadgill. There is that name, Thomas Threadgill, again. The father of William Thomas Axom in my post, The Grave of a Child, was Thomas Threadgill.
So who was Mittie Seagler Helms? Being born in Union County, NC in 1847, she should have shown up in the 1850, 1860 and 1870 census. But she doesn't. Not clearly, anyway. Perhaps she had an adoptive family, and was counted under their name, although Fanny, nor a Francis (Fanny being short for Francis), shows up either.
I suppose it is possible that Fanny died shortly after Mittie was born. While Mittie doesn't show up in the earlier census records, that I can find, her husband, Ambrose Wilson Helms, son of Noah and Emmeline Starnes Helms, does. In 1860, the family's next door neighbor is none other than Phillip Broom, son of Burrell Broom, and another son, Walker W. Broom, is nearby.
I haven't dismissed the possibility that the "Mary" who shows up in the home of Burrell Broom in 1870 could have been "Mitty". The age is certainly within the margin of error for these census records, and while he mentions Sophronia and child in his will, he doesn't mention Mary. If she were married between 1870 and his death in 1872, which Mittie was, he wouldn't have needed to marry her. So were the two teens Catherine's daughters or were they nieces she and her husband took in? Or could Catherine have also been Fanny, as in Frances Catherine or Catherine Frances?
There remains many questions as to the females in the Seiglar family, as in:
1) Who were the daughters of George W. Seigler the first?
2) Did the other daughters of William and Susannah Gurley Seigler marry, Una or Unity and Caroline?
3) What was the fate of the other daughters of George W. Seigler, son of William, with Elizabeth Jane Seigler Warner being the exception - Sarah A. , Adeline and Eliza A. ? And who were the parents of his grandsons Robert and James?
4) Who were the parents of Sophronia Ann Seigler and perhaps Mary? Who was the father of her daughter Amanda?
5) What happened to Sophronia Ann Seigler after the death of her guardian/friend/stepfather, Burrell Broom? Did she marry before 1880 or did she died? What happened to her daugther, Amanda?
I am not sure I will pursue the Seigler and Gurley families in Union County much further. These may be the only things I can find.
But I am going to look a little deeper into the Crooks.
The Will of Jacob Gurley