John Ramsey only showed up in the 1790 census of Anson County. He recieved a Grant on Lane's Creek in 1774 and between those two dates, he was mentioned in several land transactions.
He did not show up in the 1799 petition of the residents of Anson County or the 1800 census of Anson County.
My ancestor, Starkey aka "Stark" Ramsey shows up for the first time in the 1800 census and in every census between there and 1850, his last. He recieved a Land Grant in 1803, "bordering John Ramsey and Abercrombie". It is very likely that John Ramsey and Stark Ramsey were related.
But Stark was not the only Ramsey to show up in the 1800 census. There was one other.
Samuel Ramsey also shows up in the 1800 census, near Stark Ramsey, and living in the same neighborhood, among the names listed as bordering the property of John Ramsey, or in whose land transactions Stark served as a witness.
This list is a bit difficult to read, especially at this size, so I will transcribe.
Thomas Stone
Charles Ferrell
Edward Winfield
* This is my 5th Great Uncle Edward Winfield, Esquire, for whom the Winfield Road in Stanly and Anson was named. He is mentioned in several deeds that his property bordered with that of John Ramsey.
Mathew Turner
Everhart Verhine
*This is the poor man whose name was spelled a gazillion different ways, He is also mentioned in deeds involving John Ramsey.
Avery Lucky
John Stone
Reuben Hildreth
* Starkey Ramsey witnesses the 1797 deed from Elijah Hogan to Reuben Hildreth, or Heldrith, of Montgomery County. Elijah Hogan moved to Georgia. He was a son of James Hogan of Anson. Others of his family moved to Giles County, Tennesee.
Samuel Ramsey ****
Jeptha Morris
Thomas Threadgill
Griffin Nash *
Griffin was a son-in-law of my ancestor Peter Winfield and also my 5th Great Granduncle by marriage. His name appears in multiple deeds with land joining that of John Ramsey. He was a brother-in-law of the above mentioned Edward Winfield. When his first wife, Jemima Ramsey died, he married a daughter of Phillip Lynch, another neighbor. His children, over half of them, would migrate at various times to Mississippi, Missourit, Arkansas and on to Texas.
Ephriam Adkins
Hugh Ross
* There were multiple Hugh's. Not sure if this was Jr. or Sr. Hugh Ross is also mentioned in deeds bordering John Ramsey. Hugh Ross originated in Mecklenburg County, Virginia along with my Davis, Winfield, Freeman and Marshall ancestors and sold the property in Anson to Peter Winfield.
John Hicks
Uriah Tison
* Also appears in deeds of land bordering John Ramsey
Nathan Morris *
Starkey Ramsey witnesses the 1800 deed of Nathan Morris to John McDaniel.
Edward Freeman *
A nephew of Charlotte Freeman Winfield and cousin of Edward Winfield
William H. Davidson
Whitwell Ryal
Cason Harrell
Jacob Tison
John Watson
George Threadgill
This is the age and gender breakdown of the Samuel Ramsey household in 1800.
| | |
| --- | --- |
| Name: | Samuel Ramsey |
| Home in 1800 (City, County, State): | Fayetteville, Anson, North Carolina |
| Free White Persons - Males -10 thru 15: | 1 |
| Free White Persons - Males - 16 thru 25: | 1 |
| Free White Persons - Males - 45 and over: | 1 |
| Free White Persons - Females - Under 10: | 1 |
| Free White Persons - Females - 16 thru 25: | 1 |
| Free White Persons - Females - 45 and over: | 1 |
| Number of Household Members Under 16: | 2 |
| Number of Household Members Over 25: | 2 |
| Number of Household Members: | 6 |
The persons enumerated in Samuel Ramsey's household were as follows:
A male and female over 45. A male 16 to 25, a male 10 to 15
A female 16 to 25 and a female 10 to 15.
Was Samuel over 45, or could he have been the male 16 to 25? Could the older couple be his parents and the younger two teenagers be his siblings and the young woman be his wife?
The only other trace of Samuel Ramsey in Anson County is the 1799 Petition to the Assembly by the citizens of "Upper Anson".
Petition of the Citizens of Upper Anson from the Research of Ben Thomas of Anson.
In the third section, Samuel Ramsey is listed next to my ancestor, Peter Winfield, who died in 1803, David Helms and Darling Allen.
In the last section, Stark Ramsey is listed near Davis Yarbrough and Robertson Pistole, his 1850 Burnsville Township neighbor.
These are the only two mentions of Samuel Ramsey (the first) in Anson County. Due to the proximity, he was very likely a relative of John Ramsey and Starkey Ramsey.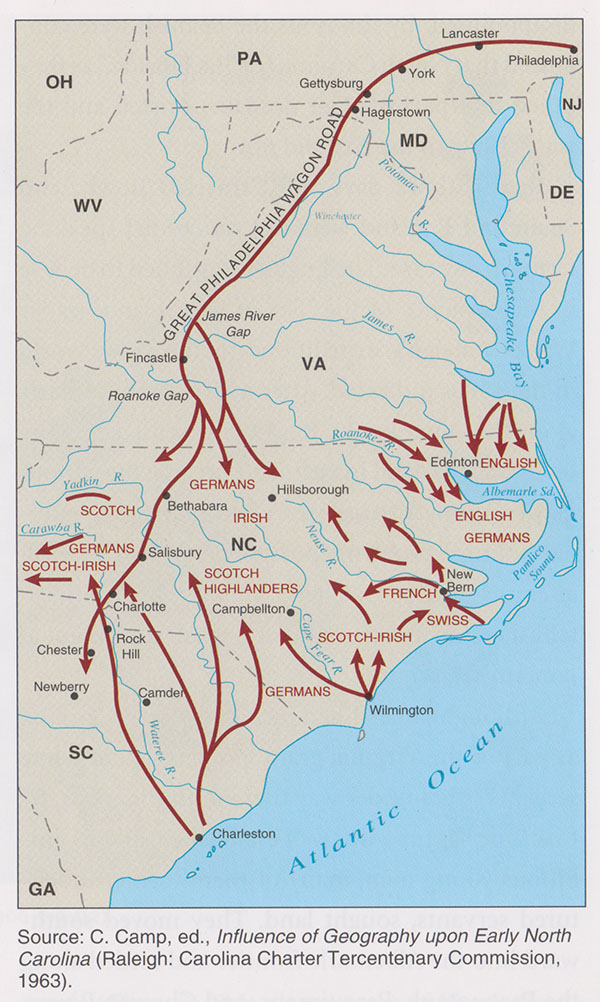 During the early part of the 1800's, there was a mass migration from there to Tennessee, Alabama, Georgia and even Indiana and areas further west as those areas opened up. Could Samuel Ramsey have been one of those individuals? Most likely. So I decided to look to see where there were Samuel Ramsey's in 1810.
There were actually 11! There was a Samuel over 45 in Burke County, North Carolina. There was a Samuel Ramsey in Abbeville District, South Carolina with a very large family and 13 slaves. This was very likely not our Samuel as the ones in Anson never owned slaves. There were Samuel's in New Hamphire, New York and Pennsylvania. These 3 were also not likely to be our Samuel as migrations tended to be south and west. Not impossible, but not very likely. There was one in Augusta, Virgina, an area I see a great deal in the trees of Ramsey family dna matches, but this one is only between 16 and 25, a young man just getting started. Too young to be our Samuel in Anson 10 years prior. There are two other Samuel's in Virginia, one in Rockbridge and another in Brooke. Not impossible, but also not likely. Those are two counties I've never seen Ansonites heading to or really, never from. There's a Samuel in Kentucky. Possible, but most families who migrated to Kentucky came from Virginia or Pennsylvania, not North Carolina. Then there is a Samuel in Nashville, Rutherford, Tennessee. The most likely candidates to be the Anson Samuel would be the one in Tennessee, or the one in Burke. There was also a
Richard Ramsey
in Burke.
Richard Ramsey does not appear in any census or petition of Anson County. He only witnesses three deeds.
The first is in September of 1788
Joshua Davis and wife Hannah
of Anson to
James Marshall
of the same, 65 acres on the southside of the Rocky River beginning at the upper corner of the plantation, near the mouth of a small branch, being a corner of an old grant and above the mouth of the Spring Branch. Signed by Joshua and Hannah Davis and witnessesed by
Drury Robertson and Nathaniel Robertson, along with Richard Ramsey.
It must be noted that in other deeds, the land of Joshua Davis bordered that of Phillip Lynch, Griffin Nash and Edward Winfield. As did that of John Ramsey. It is also worthy to note that Drury and Nathaniel Robertson were part of the Southside Virginia party who had migrated to Anson just a few years before with Peter Winfield and his inlaws, and the Marshall family.
The second deed, dated January 17, 1793 was between James Fletcher and James McIlvale (of Montgomery
and
Anson to Griffin Nash of Anson, a tract of land that began near a pole near Ross'es line (no doubt Hugh Ross), joins Camp Branch and Marks Branch (the name of this branch intriques me because of my Marks ancestry, where did it get that name?). It was signed James Fletcher and James McIlvale with Rufus Johnson and Edward Winfield as witnesses.
In April of 1794, James McIlvale was the fellow who would sell 150 acres on Little Creek to John Ramsey. And of course, again, the properties of Griffin Nash and Edward Winfield adjoined that of John Ramsey
October 16, 1792
William Davenport
, planter, of Anson to
Joshua Williams
, esquire (
meaning these two were men of substance)
100 acrea on Lanes Creek near a drain of Clemons branch and being near Joshua Williams line and joins the drain of Cedar branch. Signed by William Davenport, with
John Broadway
and
Richard Ramsey
as witnesses.
The Broadway family also occupied this area and lived near Stark Ramsey.
In 1793
John Rickett
s of Anson sold to
John Preslar
of Anson 100 acres that begin near Isham O'Neal's line and joined Preslar's path and included an old improvement that was granted to Anthony Preslar in 1790. It was signed by John Ricketts and witnessed by
Joshua William
, from the last deed, and
Richard Ramsey.
And this is the last mention of Richard Ramsey. He either passed away or migrated away before the 1799 petition and 1800 census. Most likely, he migrated. Was he the Richard Ramsey in Burke?
A quick look shows that Richard Ramsey was in Burke County in the 1790, 1800 and 1810 census of Burke County.
Research can be a tedious process of looking first at the most likely scenarios, and through the proces of elimination, whittling those scenarios and individuals down, until you are left with the most probable possibilities, and then you have to dig in those areas for documentation and proof. It could be a biography of their children or grandchildren, documents or letters kept by descendants of migrant kin that documents their origins; involvement of known neighbors who appeared to stay connected during their travels that link back to the place of origin. Sometimes, it was just too long ago to find any concrete evidence that would be considered proof for SAR or DAR membership, but it could possibly be enough, that you know in your heart, that this person was the one you were looking for.
Speaking of...there is a John Ramsey in 1800 in
Richmond County
, North Carolina. Oh, just beyong Anson, joining Montgomery and Anson...Could this be the John I was looking for? Could the Ramsey be like the Maskes and Christians and Robertson and countless others with plantations and property all up and down the Pee Dee River?
The search continues....