Nearly as soon as I posted about the death of Lemuel Howell and wondering what happened to his wife and child, I found his wife Mary.
The Death of Lem Howell and the Disappearance of his Family
She had been in my notes all along.
I had looked through the marriage records of Montgomery County looking for Howells when I was researching the family of James Howell and Sarah Moore Howell.
The Hough Connection Part II: The Family of James and Sarah Moore Howell
I had came across this marriage record for John Ussery and Mary Howell and looked into that family, but descendants had seemed to agree among themselves that her last name was not Howell, even though the marriage license clearly said "Howell".
Montgomery County, NC marriage records:
John Ussery Mary Howell 22 November 1862 Thomas Haltom , JS Spencer witness
To top that off, John Ussery was a near neighbor in 1850 and 1860 to the Howell family. I had thought it too much of a coincidence, and that part is not resolved, but I had found Mary Howell.
Name
Mary Williams
Age
6
Birth Year
abt 1844
Birthplace
North Carolina
Home in 1850
Montgomery, North Carolina
Gender
Female
Family Number
35
Household Members

| Name | Age |
| --- | --- |
| John Williams Amos | 52 |
| Amy Williams | 45 |
| Eliza Williams | 13 |
| Mary Williams | 6 |
| Henry Williams | 3 |
| Harriet Williams | 21 |
Mary Williams turned out to be the daughter of Wheelwright John Amos Williams and his wife Amy Morland Williams. I had made an earlier statement that Montgomery County was chock full of Williams, and indeed, that was where Mary Williams Howell was born.
Judging from the near neighbors, Mary Williams grew up in a town, perhaps Lawrenceville or Mt. Gilead, according to the names. Her folks lived near Nathaniel Lilly and several other Lilly's, descendants of Edmund, and early mover and shaker. Other names were pertinent to both Montgomery and Stanly County history, like Calvin Wooley, Auley McAuley, and Levi Stacy.
Professions in the neighborhood included Blacksmith: Malcolm D. Matheson, Merchants: David Pemberton, C. J. Cochran, Martin McPherson and Alex Zachary, Tailor: A. R. Warner, Retailers: Stephen Bunnel and Charles Campbell , Clock and Watch Repairman George W. Hillard
and other professionals suggesting a town setting. Other neighbors were John M. Lilly, Sr, Enoch Davis and his family, who were from Maryland and not related to my Davis family, and John and William Mills, who had many Stanly County descendants.
She was a very young teenager when she married Lemuel Howell in 1860, in time to appear in the 1860 census with him, his youngest uncle, Richard and his grandmother, Martha, living next to his parents, John Randle and Elizabeth Nash Howell.
Name
Mary Howell
Age
19
Birth Year
abt 1841
Gender
Female
Home in 1860
Stanly, North Carolina
Post Office
Albemarle
Family Number
902
Household Members

| Name | Age |
| --- | --- |
| Lam Howell | 30 |
| Mary Howell | 19 |
| Richd Howell | 43 |
| Martha Howell | 78 |
Very shortly after their marriage, Lemuel would volunteer for engagement in the Civil War, in 1861. He was in Company H, 14th Regiment and enlisted in Albemarle on May 5, 186. He mustered in about a month later in Garysburg. His military career was short-lived, as he died of disease on August 17, 1861, at Camp Ellis, Suffolk, Virginia, just two months later.

Both sides in the war suffered greatly from diseases that thrived in the poor, dirty conditions with close contact and poor nutrition adding to the distress. More soldiers died of small pox, thyphoid fever, "chronic diarrhea", measles, and other contagious maladies, than did from wounds. The heath and physical conditions of the troops fed into this disaster, as most suffered exhaustion, stress and malnutrition.
| | |
| --- | --- |
| Name: | Pvt Lemuel M Howell |
| Birth Date: | 1831 |
| Birth Place: | North Carolina, USA |
| Death Date: | 17 Aug 1861 |
| | Suffolk City, Virginia, USA |
Mary Howell filed a claim for a widows pension in May of 1862. By the end of the year, however, she had remarried to John Ussery, becoming his third wife. This was not uncommon, for a young widow to marry a much older man, as the times and era left little opportunity for women to support themselves, they had to marry or attached themselves to a man for survival. If not a husband, a father, brother, uncle or even lover. Many men who survived the war found themselves supporting two or more families.
Mary Howell and John Ussery had three children. But what of the child mentioned in the Obituary published on Lemuel Howell in the Fayetteville Observer?
The oldest child of Mary Howell was named Elizabeth Virginia Ussery. Could she have been a Howell in all actuality. To look at this possibility, I need to do a timeline of events in the life of Mary Williams around this time.
May 9, 1860 Marriage of Lemuel M. Howell and Mary Williams
May 5, 1861 Lem Howell enlists in the army.
August 17, 1861 Lemuel Howell dies in Suffolk, Virginia
May 12, 1862 Mary Howell appoints Richard A. Anderson as her agent and attorney to make a claim as the widow of Lemuel M. Howell, to collect what is due to him by the Confederate States of America.
November 22, 1862 Mary Williams Howell marries John W. Lewis Ussery.
December 16, 1862 Elizabeth Virginia Ussery is born.
Using a modern conception calculator, designed to calculate the approximate date a child is concieved, Elizabeth Virginia would have been concieved around March 20 - 24 in 1862. Lemuel Howell had been deceased 7 months at that time. However, it is clear that Mary was 8 months pregnant during her marriage to John Ussery.
The child of Lemuel Howell was probably born sometime in 1861 before his death in August. He or she could have passed away as an infant or may have been given to a relative to raise as their own.
John W. Lewis Ussery was born about 1802 near Mt. Gilead, Montgomery County, NC, the son of James Blackwell Ussery and Sarah Chambers Ussery. I have not personally researched this family, but according to available research, Mary was his third wife.
His first wife is said to have been Sarah, with which he had about 5 children. His third wife was named Nancy Elmore and she was still during in the 1860 census, when the couple is seen living with John's daughter Annis and her children, George Washington Ussery, Sarah and Ellen.
Name
John Upsey
Age
60
Birth Year
abt 1800
Gender
Male
Home in 1860
Zion, Montgomery, North Carolina
Post Office
Zion
Family Number
888
Household Members

| Name | Age |
| --- | --- |
| Colen McRae | 50 |
| John Upsey | 60 |
| Anna Upsey | 32 |
| George W Upsey | 12 |
| Sary A Upsey | 9 |
| Ellen Upsey | 7 |
| Nancy Upsey | 52 |
John and Mary had 3 children, Elizabeth Virginia, John Henry and Mary "Bett". John passed away about 1868, and Mary was again widowed, and shows up alone with her children by the 1870 census, living in Mt. Gilead.
Name
Mary Usery
Age in 1870
18
Birth Year
abt 1852
Birthplace
North Carolina
Home in 1870
Mount Gilead, Montgomery, North Carolina
Race
White
Gender
Female
Post Office
Mount Gilead
Household Members

| Name | Age |
| --- | --- |
| Mary Usery | 18 |
| Eliza Usery | 8 |
| James Usery | 6 |
| Mary Usery | 2 |
The transcriptionist gives the wrong age for Mary in this census. She was 28. Still a young widow, Mary forges on.
Name
Mary Hall
Age
35
Birth Year
abt 1845
Birthplace
North Carolina
Home in 1880
Mount Gilead, Montgomery, North Carolina
Race
White
Gender
Female
Relation to Head of House
Wife
Marital Status
Married
Spouse's Name
Calvin Hall
Father's Birthplace
North Carolina
Mother's Birthplace
North Carolina
Occupation
Housekeeping
Household Members

| Name | Age |
| --- | --- |
| Calvin Hall | 35 |
| Mary Hall | 35 |
| Eliza Hall | 20 |
| James Hall | 15 |
| Bet Hall | 12 |
On January 13, 1871, she married Calvin Hall.
Calvin Hall was more Mary's age and was probably financially secure, as the family had 3 servants in 1880. Mary even had a housekeeper. Her three children are seen as "Hall", but were actually Ussery's. I have not found the names of any children she and Calvin had together.
Mary's oldest daughter Elizabeth, married Benjamin Mauldin. In 1900, Mary Hall is listed as living with them as Mother-in-law of Head of Household, Benjamin. In this census, it says that she was the mother of 7 children with 2 living. Mary Bet had passed away and the two living were James Henry Ussery and Elizabeth. With her Howell child, that accounts for 4 of the 7. That leaves 3 children she may have had with Calvin between 1871 and 1900 that probably passed away as small children.
I have not located the grave of Mary C. Williams Howell Ussery Hall. She passed away about 1905 in Mt. Gilead. She was survived by her two children and grandchildren.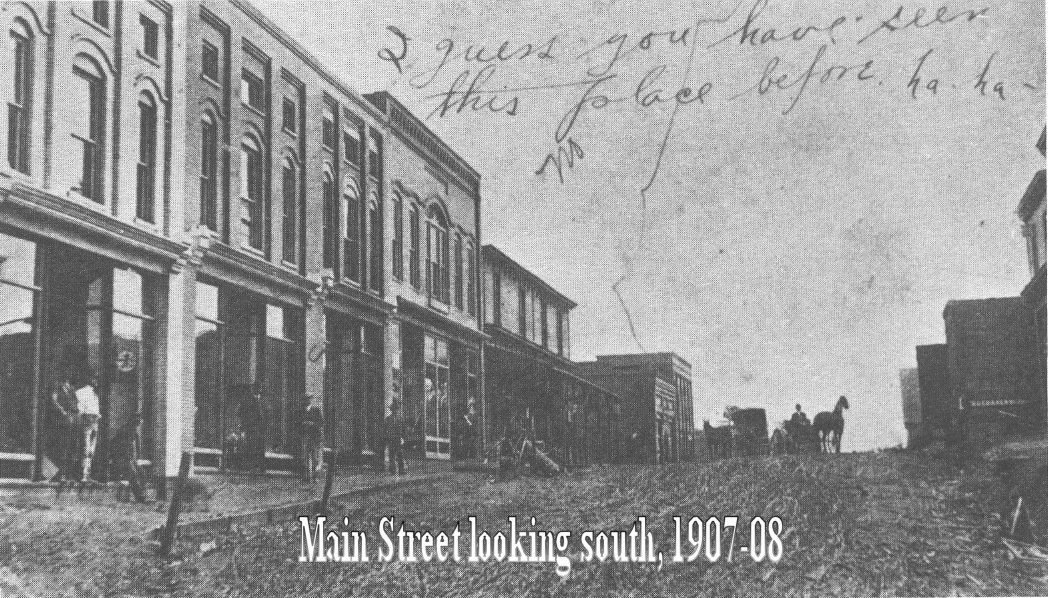 Elizabeth Virginia Ussery Mauldin was born December 16, 1862 in Mt. Gilead and died on January 4, 1934 near Cheek's Creek in Montgomery County. She married Benjamin Rufus Mauldin on May 4, 1884 at the age of 21. She and B. R. Mauldin had 8 children:
1885 Mary Wilma
1887 Lilly Bertha
1889 Josephine
1892 Benjamin F.
1895 Sallie
1897 David Dosten
1900 Morrison or Marenson
1907 Ivey Thomas
James Henry Ussery was born May 8, 1865. He married Martha Ann Andrews on December 23, 1886.
James and Martha had 8 children:
1887 Benjamin
1889 Lillie Mae
1891 Annie
1895 Edna Pearl
1896 Nora Lee
1898 Elizabeth Cordelia
1902 Robert "Bertie"
1905 Mollie
1909 Martha Rilla