It is with no doubt that I am descended from George Washington Turner. What I recently discovered is that Washington was not descended from George Lilly Turner, son of James Melchor Turner. So my current genealogical journey is to find out where he did, indeed, come from.
To discover my true Turner roots, I will start at beginning of them in my family tree and go backwards. My Turner roots began with my Great Grandmother, Penny Wayne Turner Davis. Penny was the mother of my maternal Grandfather.
There really is no doubt as to who her father was, although he died when she was about 9 years old. She lived into my own lifetime, her children and grandchildren, for the most part, all knew, and were told, who her father was. Her marriage certificate to William H. Davis and her death certificate name her parents as Will Turner and Fanny Falkner, expanded, William Alexander Turner and Sarah Frances Falkner or Faulkner.
| | |
| --- | --- |
| Name: | Wm A Turner |
| Age: | 31 |
| Birth Date: | Mar 1869 |
| Birthplace: | North Carolina |
| Home in 1900: | Albemarle, Stanly, North Carolina |
| House Number: | 21 |
| Sheet Number: | 14 |
| Number of Dwelling in Order of Visitation: | 181 |
| Family Number: | 208 |
| Race: | White |
| Gender: | Male |
| Relation to Head of House: | Head |
| Marital status: | Married |
| Spouse's name: | Fannie Turner |
| Marriage Year: | 1887 |
| Father's Birthplace: | North Carolina |
| Mother's Birthplace: | North Carolina |
| Occupation: | Cotton Mill, Drawer |
| Months Not Employed: | 0 |
| Can Read: | No |
| Can Write: | No |
| Can Speak English: | Yes |
| House Owned or Rented: | R |
| Farm or House: | H |
| Neighbors: | |
| Household Members: | |
The 1900 cenus is the only census that Penny shows up in with her father. Her sister Bessie, was born later this year, so Fannie was likely pregnant during this census. Ella Smith was the sister of Fannie, and Virgie, her child. The family had lost several children already at ages from 5 to less than a year old. Between Will's tombstone in the Red Hill Baptist Church Cemetery, near Ansonville, and that of Sarah Frances "Fanny" Falkner Turner are the graves of 5 small children. Three are marked, Viola, Willie, and Luanna. The other two are not. One must be the grave of Mary, who was remembered by her sisters who made it to adulthood, and the other, an unknown daughter who was born after the death of Will Turner
Will died January 3, 1902. I am unsure from what disease or disaster, as I have not found an obituary for him. He was only 35 years old. His widow, Fanny, would remarry to Brantley M. Thompson and have a son, Bennett. She would not live a very long life, either, dying at age 51. Her youngest daughter to make it to adulthood, Bessie, would also die very young, at 18, which you can hardly call adulthood, but she was married, and left behind a son. Her second child, born a year later after her son, died the same day he was born, and Bessie died 3 days later.
Fanny, although having remarried and becoming a Thompson, was buried in the Turner section of the Red Hill Baptist Church Cemetery, and whomever erected the marker omitted the "Thompson" part of her name.
So from where did William Alexander Turner come?
| | |
| --- | --- |
| Name: | William Turner |
| Age in 1870: | 1 |
| Birth Year: | abt 1869 |
| Birthplace: | North Carolina |
| Dwelling Number: | 274 |
| Home in 1870: | Ansonville, Anson, North Carolina |
| Race: | White |
| Gender: | Male |
| Occupation: | At Home |
| Inferred Father: | Geo N Turner |
| Inferred Mother: | Elizabeth Turner |
| Household Members: | |
William Alexander Turner was born on February 18, 1866, the year following the close of the Civil War. He first shows up in the home of his parents, George Washington and Wincy Elizabeth Morton Turner in the 1870 census. The "N" in George's name is a transcription error. They were living in Ansonville Township. Will was the sixth child in large family.
| | |
| --- | --- |
| Name: | Wm. A. Turner |
| Age: | 11 |
| Birth Date: | Abt 1869 |
| Birthplace: | North Carolina |
| Home in 1880: | Ansonville, Anson, North Carolina, USA |
| Dwelling Number: | 67 |
| Race: | White |
| Gender: | Male |
| Relation to Head of House: | Son |
| Marital status: | Single |
| Father's name: | G.W. Turner |
| Father's Birthplace: | North Carolina |
| Mother's name: | E. Winey Turner |
| Mother's Birthplace: | North Carolina |
| Attended School: | Yes |
| Cannot Read: | Yes |
| Cannot Write: | Yes |
| Neighbors: | |
| Household Members: | |
By 1880, the family had expanded to 11, with the oldest son, George Samuel Turner, already out on his own. This time around, the family also included 82 year old Mary Turner, whose relationship to the head of household, George W. Turner, was given as "Mother".
| | |
| --- | --- |
| Name: | William A Turner |
| Gender: | Male |
| Race: | White |
| Age: | 20 |
| Birth Year: | abt 1867 |
| Marriage Date: | 26 Jan 1887 |
| Marriage Place: | Anson, North Carolina, USA |
| Father: | George F Turner |
| Mother: | Winey Turner |
| Spouse: | Fannie Falkner |
| Spouse Gender: | Female |
| Spouse Race: | White |
| Spouse Age: | 19 |
| Spouse Mother: | Susan Falkner |
| Event Type: | Marriage |
Will and Fannie were married on January 26, 1887. He was 20 and she was 19. These ages were typical for the times. His parents were George and Winey. Hers was given only as Susan Falkner, as her father had passed away. The Faulkners have proven to be even more elusive than the Turners, if that is possible.
William Alexander Turner - family photo
But we had some very definate clues. One true and certain thing that had been passed down was that Wincey Elizabeth or Elizabeth Wincey Morton, wife of George Washington Turner, was the daughter of Samuel Parsons "Crying Sammy" Morton.
Sammy was a gifted minister, whose sermons were colorful and joyous events. Sammy was given to joyous and spirted outbursts of emotion. Tears were a result of his fervor, thus the moniker, "Crying Sammy".
"
Deacon Uriah Staton, a large land owner of the Rocky River section and a leader in both the first church there, and a later one at Red Hill, usually went to sleep when Uncle Sammy preached. When asked about this, he is said to have replied, "I know I can trust Uncle Sammy, but the stranger I have to watch". Morton was born in Stanly County in 1805 and lived near Badin. He was an earnest, good man, filled with the spirit, and lived a meager life bordering on poverty. He requested that the words on his tombstone be, "S. P. Morton, A sinner saved by Grace."
History of Anson County, North Carolina, 1750-1976
–
Samuel P. Morton deserves his own post. He was not merely a minister. He served as clerk, registrar, and Justice of the Peace in Stanly County. He was born in the eastern part of Stanly County, near the current town of Badin, but lived far before the town was even considered. He probably grew up attending the old church called Ebenezer, that became Badin Baptist, but was in existence long before the town grew around it. He may have listened to sermons of the "Old Scotch Preacher", another of my ancestors, Rev. William McGregor, or his son-in-law, Bennett Solomon, at the "Mouth of Uwharrie Baptist Church", whose congregation became Stony Hill. He was tied in with the Callaways, and his first wife, Vashti, was a daughter of Isaac Calloway and sister of Job Calloway.
Sammy was a minister and an evangelist and served at several churches in multiple counties. He taught at Kendall's, in Stanly County, and became a schoolmaster at Rocky River Baptist in Anson. The below ancedote comes from
"
The History of Rocky River Baptist Church",
by E. M. Brooks, circa 1928
Once when Elder Samuel P. Morton was in charge, a big boy needed the rod of correction, and as was the custom with teachers, sent the boy out with his knife to get the switch. While out the boy pealed the loose bark off a pine log and lined the inside of 'his shirt, thus forming an armor against the impending switching by the teacher. The boy deliberately walked and handed the switches to the teacher, turning around and bending over apparently in perfect submission and humility to receive his just desert. Uncle Sammy was in the right mood to proceed and began letting the rod fall fast and heavy. But what a noise? Was he killing the (boy or not? Nobody understood; not even the teacher. Too much thunder for the lightning he thought. A careful examination revealed the facts. Uncle Sammy was outwitted. The boy went free. But again the same boy offended. He was given to fun. It was his main purpose in going to school. He was good hearted; the teacher River Baptist Church 11 loved him. But he must be punished; he might ruin others. This time Uncle Sammy gave orders for quiet and this time went out after the switch himself. On returning "Snole" couldn't be found. None would explain. The teacher finally thought of the big old chimney as a possible hiding place He was sure enough up there. He was given or- ders to slide down. This he did to the amusement of teacher as well as pupils. Again he had out- witted Uncle Sammy. He went home none the worse save the mark of Ham upon his features. He was as black as any slave on his father's farm. Yet 'tis said the boys and girls were better, then."
Samuel P. Morton.
Samuel P. Morton was born November 23rd, 1805. He was most likely born in Stanly County, but this is not positively known. He lived near the present town of Badin, where a part of the chimney at the west end of the house still re- mains. From here he moved to Anson, but this alone does not establish the place of his birth. He took his letter from Ebenezer near by on December 23rd, 1848. The letter was signed without a moderator, but with: "Daniel McLester, Clk. by William Solomon, Clk. protem." Elder Morton had very likely already moved to Anson as he had been pastor continuously for several years. His first marriage was to Miss Vashti Calloway, daughter of Isaac Calloway, probably of Montgomery County, as 'he belonged to the church at the mouth of Uwharrie and was a delegate to the Sandy Creek in 1805 and again in 1811. His wife was a sister to Job Calloway, who for years held his membership at Rocky River. This Job Calloway lived at what is now the Davidson Talbert place, three miles north east of Albemarle. This put him just twenty miles from the church. But he attended and kept in good standing. He it was, who rode these twenty miles in 1830 to ask the mother church to send a presbytery to constitute Kendalls into a regular church. The presbytery consisting of "Elder Ralf Freeman, Thomas Allen, Amon Yarborough and Wyatt Nance." This was Saturday before the fifth Lord's Day in May, 1830. From this first marriage of Bro. Morton, there were several daughters and one son. One of the daughters married G. W. Turner of Anson, who raised a large and creditable family of sons and daughters. With this daughter Bro. Morton 56 History of The Rocky spent his last days. Another daughter married brother Thomas Hall, of Stanly, who also raised a large family. The one son, George Morton, having lost his own mother, tired of home, went to Texas and never returned. Uncle Sammie was often called the "Crying Preacher." He was unusually tender hearted and seldom ever preached without shedding tears. It is thought he had the best education of any pastor up to this time. He first planned to study and practice medicine but abandoned this for the ministry. He was the first preacher remembered by the writer of this little history. From now on most that is written will be from personal knowledge. Uncle Sammie, while not specially gifted as a revivalist, had the pleasure of baptizing hundreds, both white and slaves. He was also popular as a marrying parson. He would often after supper play a few innocent games with the young people and then slip off to bed early. He knew the young people wanted a Scotch-Ramble Cotillion or at least a "Steal-Partner." He usually fell asleep at once and never knew anything more that night, so the young people thought. A better man then or now would be hard to find. Once in his latter days he was spending a cold Saturday night with a family near Norwood. To protect his head from the cold he had kept on his hat till they went to prayer. In kneeling he placed his hat too near the fire, on arising he and his friends discovered that his hat had burned to ashes. Pie said, "What shall I do, I have an appointment for tomorrow?" The hoys said, "Never mind, Uncle Sammie, the Lord will provide." Early next morning without his knowledge they rode out to Norwood and a kind merchant walked down to his store and selected a nice hat for him. But for his teaching a few months each year he never could have lived wihile serving the churches. When his age prevented his teaching anymore, some of (his churches never paid more than fifteen dollars a year and didn't pay a cent of that till the last meeting before the association. This is neither hearsay nor guess work, there were no poundings in those days either. He was largely to blame for this as he was too humble and tender hearted to tell his people their duty. There are two ex- tremes. He was at one end; some of us today are at the other. Where is the "happy mean?" Uncle Sammie used chaste and correct English. He was logical in the arrangement of his sermons. He was neither a fluent speaker nor an orator. His first year at Rocky River was in 1841. Elder Culpeper had served through 1840. Owing to the river being in the way Uncle Sammie was unable to meet several of his appointments that year, for this probably he dropped out and was followed by Elder William A. Morris, who lived only six miles away on the Anson side and had no streams to hinder him. He served three years and was followed by Elder Dwight Hayes for 1845. Then Uncle Sammie takes charge again through 1846-1875, twenty-nine years in all. His second wife preceded him to the grave by five years. As said before, he spent his last days with his daughter or near her, apart of the time possibly in his little humble home almost in sight. He died very poor in this world's goods, but rich in grace. He had requested that this line be engraved on his headstone: "S. P. Morton, a sinner saved by grace." After some years the Anson Association placed 58 History of The Rocky a monument to his grave and put the words he requested on as a part of the inscription. He was buried at Red Hill Church, which was near his ihome, two or three miles West of Ansonville.
"
The History of Rocky River Baptist Church",
by E. M. Brooks, circa 1928
There is no doubt that Samuel P. Morton was my ancestor by way of his daughter, Wincie Elizabeth Morton Turner. Her husband, G. W. Turner, is mentioned in the Rocky River book, but not his ancestry.
George Washington Turner, being born in 1835, was the age to serve in the Civil War. He did, and he was injured. Unlike his contemporaty, John W. Turner, son of old George Turner, he survived.
CLIPPED FROM
North Carolina Argus


Wadesboro, North Carolina02 Jun 1864, Thu • Page 1
George W Turner enlisted in Company A, 4th North Carolina Calvary on May 10, 1862 in Wadesboro, by L. A. Johnson 'for the war.' 'Traveling to place to rendevous' was 160 miles. Valuation in dollars of - A Horse $275 and horse equipment $35.
He's present on musters until May of 1863, when it is noted that he was absent, and 'home on detail'.
The October muster notes that on October 11, 1863, at Brandy Station, that he was wounded "severely in head."
Stock photo: Civil War photo collection, Brandy Station, Culpepper County, Virginia
Brandy Station, located in Culpepper County, Virginia, is noted as the largest Calvary Battle of the Civil War.
In George's paperwork, it states that he was at home wounded through April of 1864. In May of 1864, he is at the hospital at Raleigh, NC. In the July and August muster, he is present, and back in service. Also included in the packet is a receipt roll for clothing from Camp Winder, Virginia. He appears on a list of casualties in Brigadere General James B. Gordon's Brigade for Oct 9, 1863 at the Bristoe, Virginia campaign, as wounded, severely. He is then taken to Winder Hospital.
He is given a receipt for the loss of his horse, killed during an engagement at Jack's Shops, Virginia, valued at $650. He recieved the reimbursement by W. D. Holliman at Madison's Mills, Virginia. A collection of signed reciepts show that George W. Turner was educated. He wrote clearly and legibly and had a lovely signature. He lost his horse, but G. W. Turner made it home.
Land: The only deed in the Anson County files that George W. Turner is listed as a Grantee for in one dated November 4, 1880, Book 26 Page 439.
For $42. 75 Uriah Staton sells to George Washington Turner a tract of land in Anson County that begins in a stake in G. W's own field and contains 14 and one quarter acres.
Witnesses were R. J. Turner, J.S. Turner and R. J. Mills, the first two being George's own sons.
This only informs us of two things, G. W. owned property already, but where did it come from and secondly, he was a neighbor to Rev. Uriah Staton.
Although mentioned as a son-in-law of Rev. S. P. Morton in the anuls of Rocky River Baptist Church, it is at Red Hill, east of Ansonville, that George Washington Turner, his descendants, and his in-laws, are buried.
In a book on the history of this little country church called "Peace and Harmony, a history of Red HIll Baptist Church 183-1990 by The History Committe and Walter Woodson, Jr. ", I find that George Washington Turner was very involved in this church, as well as his father-in-law.
The church began under the guidance of the much older, Rocky River Baptist and they credit Rev. Uriah Staton, who sold G. W. Turner the tract of land, as being the founder. Page One of the Red Hill Sunday School book is dated May 19, 1861.
Cellphone picture of Red Hill Baptist Church, May 2019





Tombstone of George Washitngon Turner
The War had a devastating effect on the church and there seems to be no recorded minutes or notes during that period. Rocky River aided in its reorganzation and in 1869, the first minutes record the names of G. W. Turner, E. W. Turner, his wife, and H. H. Davis (Hampton), a son of Henry Davis and grandson of Job Davis. Hampton's nephew would marry G. W. Turner's granddaughter.
In August of 1869, the following 'brethren' were appointed to attend and represent the church at the meeting of the Pee Dee Association, a gathering of representatives from all of the Baptist Churches in the Pee Dee region, which included several counties: A. E. Bennett, G. W. Turner and James Martin.
Rev. S. P. Morton was Pastor in 1870 and G. W. Turner was appointed a deacon for life in 1869.
In May of 1869, J. P. Morton, James Martin and G. W. Turner were selected to draw up the "Rules of Decorum" for the church. George W. Turner was no doubt a very active and founding member of this congregation.
The Messenger and Intelligencer


Wadesboro, North Carolina
11 Dec 1890, Thu • Page 3
There is, of course, no 1890 census, but I discovered a few snippets from the old Anson County newspapers that mention my 3rd Great Grandfather, G. W. Turner. He's among a list of old pensioners for his service in the war in 1890.
The Messenger and Intelligencer


Wadesboro, North Carolina
04 Aug 1892, Thu • Page 3
He was elected to represent Ansonville in the County Convention in 1892.
Also in 1892, he was selected as a delegate to represent the Ansonville Democratic Club.
The Messenger and Intelligencer


Wadesboro, North Carolina
05 Oct 1893, Thu • Page 2
He was making sorgum in 1893.
George W Turner was mentioned in this memory of the Civil War, in his calvary post as being "shot to pieces". It makes me cringe.
The Messenger and Intelligencer


Wadesboro, North Carolina
14 Nov 1895, Thu • Page 1
On January 29, 1895, the old soldier went home. This same year, the house of his son Joseph Atlas Turner, located on the Smith plantation burned. Then George W. Turner, at 65, was working for the Smiths, when his coat was caught in the machinery of a corn mill.
The Messenger and Intelligencer


Wadesboro, North Carolina
31 Jan 1895, Thu • Page 3
George was buried in the graveyard of his church home, Red Hill Baptist. He joined his wife, Wincy, who passed away 10 years prior. His son, William A. Turner, my 2nd Great Grandfather, would join him in just 7 short years.
George Washington Turner and Wincy Elizabeth Morton Turner were the parents of 13 children. All born near Ansonville, North Carolina :
1) George Samuel Turner ( 1856-1920) Died in Abbeville, South Carolina. Married Margaret Jane Crawford.
2) James Stevens Turner ( 1858-1895) Died in Anson County, of pneumonia. Married Ella E. Falkner, sister of Sarah Frances Falkner. One son, named George Washington Turner b 1891.
3) Robert Johnson Turner (1859-1934) Died in Wadesboro, Anson County, NC. Married Minnie Alethia Briley.
4) Joseph Atlas Turner (1864-1922) Died in Anson County. Married Charlotte "Lottie" Rebecca Wheless. His widow moved the family to China Grove in Rowan County after his death.
5) Mary Elizabeth "Bettie" Turner ( 1865-1929) Died in Anson. Married Benjamin Franklin "Frank" Threadgill, later in life. No children for her.
6) William Alexander Turner (1866-1902) Stanly County. Married Sarah Frances "Fanny" Falkner.
7) Susan Vashtie Turner (1872-1926) Died in Anson County. Married Leonard L. Martin.
8) Ellerson Mallory Turner ( 1873-1958) Died in Concord, NC. Returned to NC after years of living in California. Married Mary Susan Solomon.
9) Sarah Chanise Turner (1875-1943) Died in Pinehurst, Moore County, NC. Married Dock T. Covington.
10) Louis Arnold Turner (1876-1971) Died in Lake County, California. Married several times while living in San Francisco working as a merchant. Had a house on Haight Street. Last wife, Martha, was from Ireland.
11) Wincy Hannah "Dollie" Turner (1878-1957) Died in Anson County. Married 3 times, John Calvin Scarboro, Evander Maness, and James Resden Thompson.
12) Lillie Virginia Turner (1880-1929) Died in Tampa, Florida. Married John Edgar Faris, Sr.
13) Thomas Jefferson Turner ( 1882-1967) Died in Lake County, California, along with older brother, Louis. Married Emma Adele Shattuck.
In the 1900 census, after the deaths of their parents, several of the younger, unmarried Turners lived together in Ansonville, with Robert as the Head of Household. They appeared to be renters on the Smith Plantation. The family story was that my Great Grandmother Penny grew up there. She must have moved there at age 8 after her father died in 1902.
The Division of Property of George Washington Turner took place in 1905. George Samuel, Ellerson Mallory, Louis Arnold, Thomas Jefferson and Lillie Turner, had all apparently left the area by then. The brothers, by way of the military for the most part.
Tombstone of G. W. Turner.
I've learned that my 3rd Great Grandfather, George Washington Turner was a good father and provider, a brave soldier, a quiet farmer, a devout Baptist, a community servant. He served his family, his church and his community, in various capacities. He was a hard worker and died hard at work at the age of 65. I hold to heart all I have learned about him as an adult. Now I desire to know from where he came.
I know he was not a son or grandson of George Turner of Arnett's branch. I do know, from his miltiary records that he was born in Anson County, NC. I know from the 1880 census that his mother's name was Mary and she was born in North Carolina. I know she was not Mary Turner, sister of George, who died in 1878.
Where was she before 1880? Where was George before he enlisted for the War in 1862?
It's time to find some answers.
The Smith Plantation in Ansonville. Stock photo, Anson County History Center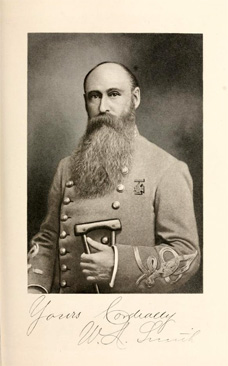 William Alexander Smith, for whom George Washington Turner named his fifth son, my 2nd Great Grandfather, William Alexander Turner. Stock photo, Anson County History Center.
The Biblical Recorder


Raleigh, North Carolina
22 Jun 1887, Wed • Page 2