While researching in old land records, where sometimes you can find genealogical treasure, I often come across the names of unknown landmarks. Knowing the names of local waterways and archaic areas or even long lost towns helps to figure out exactly where an ancestor lived. Sometimes, as in my recent passion, it can show a chain of occupancy, where a deed may no longer even exist, most especially in burned counties, of which Montgomery was one.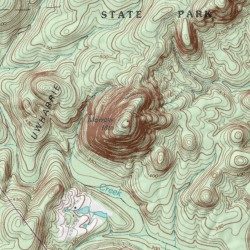 All in all, I'm not just fascinated by genealogy, or even just history, but also the topography of my little piece of Eden. I love old maps and sometimes, it's really not so easy trying to pinpoint the location of an old town, or a plat of land. So one of my newest pursuits has become Mountain Chasing.
Now, they don't move, but sometimes they do hide, in plain sight, I'm discovering, We just haven't noticed them.
Stanly County, North Carolina is part of a small, ancient mountain range known as the Uwharries. Most people think of Montgomery County when thinking about the Uwharries, but they really cover 4 counties, Montgomery, Stanly, Randolph and Davidson. The foothills of the Uwharries even range down into Cabarrus, Anson and Union. While Montgomery boasts the Uwharrie National Forest, a federally protected forest preserve, Stanly County boasts Morrow Mountain State Park.
When most locals think of the Mountains of Stanly County, they think mainly of the area of the park and the mountains contained therein. Morrow Mountain is the largest, once known as Naked Mountain because of Cyclone damage. The park also includes Sugarloaf, Tater Top, Hattaway, Mill and Falls Mountains. More observant locals could probably name as many as 10 Stanly County mountains that are still recognized by road names or other markers, the 6 within the park, but also Stone Mountain, because of the winery and housing development, Nelson Mountain, because of the road of the same name and treacherous golf course, Morgan Mountain near Norwood, because of the campground at the foot of it, and Palmer Mountain, because of the canal that now separates it from the mainland. I've grown a tad more knowledgable in the names of local mountains, found through research, Shepherds Mountain and Lowder Mountain, which are literally in the City of Albemarle.
So, in addition to my normal genealogy, I am going to be starting a series called "The Mountains of Stanly County", trying to determine which bumps in the local terrain correspond to names in old deeds, and it might help folks pinpoint more exactly where their ancestors lived.
I'm also hoping to give some of these old Uwharries their names back in the process.