I've not been posting much lately, as the Christmas Season leaves little free time for me. I did want to share a few mentions of Christmas traditions in my little part of the world, Stanly County, North Carolina.
Christmas would always begin when the big cedar Christmas Tree would be placed in the corner of the Church santuary, right behind the piano.
Next, trees would go up at home and at my grandparents. When I was small, these metalic aluminum trees in various colors were popular.
My grandparents loved these and they looked particularly good with blue balls and decorations.
Another favorite part of Christmas for me was when the upper room at Lowder's Hardware on the corner of First and Main Streets in Albemarle, became Toy Land. Old-fashioned Toy Stores held the most delight and artful decor. Nothing like them.
I would always gravitate towards the offerings of Ceramic Toy Horses. Some of them came with books.
There was Black Beauty:
Misty of Chincoteague.
Trigger, Roy Rogers horse
The story of the Morgan Horse:
There was Silver, or the whole Lone Ranger set complete with the Lone Ranger and Tonto and his Pinto, Scout.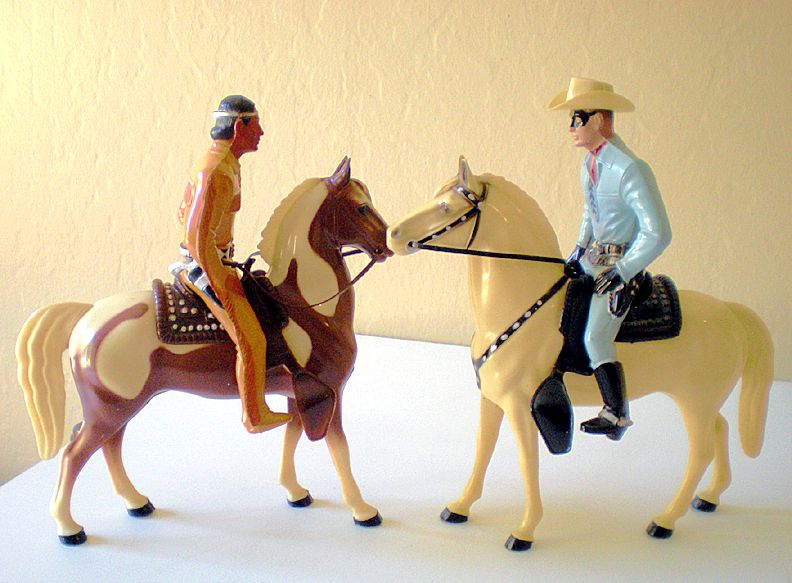 Seabisquit.
And Mr. Ed, everyone's favorite Palomino.
And the menage of horse families and different breeds and I wished for them all.
Next, I would gravitate toward the captivating doll houses:
Gumby and Pokey dolls
which also involved a horse, by the way.
Then the Easy Bake Ovens and Lite Brights:
And slinkys of all kinds:
Then the dolls. The obvious Barbie, Ken and Skipper:
But there were also Tammy dolls and her little sister Pepper, and Dawn dolls, a bit smaller.
But in the end, Barbie won the Fashion Doll war and Tammy and Dawn and their minions faded into memory and ebay.
There was the Mrs Beasley doll, made famous by the charactor of Buffy on the TV show,
Family Affair,
and her counterpart, a Buffy Doll.
And who could forget the influence of Batman?
Everyone at daycare was either Batman or Batgirl. Apparently no one wanted to be Robin.
There were also Trolls,
Munsters
And Caspar the Friendly Ghost with his pals Windy and Nightmare, another horse.
But it wasn't all about toys, even though at 4 and 7 and 10, toys are a major deal.
There were churchs, and still are, that would offer live Nativity scenes on Christmas Eve and Weekends.
Nearly everyone would decorate like the Griswolds.
As electricity bills have soared, the decor has became milder, except for a few holdouts.
Another tradition began as malls became popular, is the Annual Albemarle Downtown Christmas, where downtown merchants get to offer their best, with carolers, lights and food.
Albemarle becomes a scenic wonderland during this time of year. Several of the towns around hold Christmas parades, with bands, floats and the ever popular Santa's sleigh at the end. I remember best the years that Fred Kirby rode in the parade, a Charlotte, NC cowboy and Joey the Clown, also from Charlotte, nicer and less scary than Bozo.
The small community of Palestine, which is hardly more than a 5 Point Crossroads, also holds an annual Christmas parade.
Merry Christmas and a Happy New Year to Everyone!